Post Classifieds
Two Tech tennis players make quarterfinals
By J.K. McMillen
On October 31, 2017
Two TTU tennis players battled to the quarterfinals of the Intercollegiate Tennis Association Ohio Valley Regional championships.
Senior Eduardo Mena, the thirty-third ranked player in the nation and two-time Ohio Valley Conference Player of the Year, was eliminated in the quarterfinal round of eight by Ryotaro Matsumura, of the University of Kentucky, the fifth ranked player in the Ohio Valley region.
"It's very difficult to play five matches in three days," Mena said. "I was not in my best shape. Against Matsumura, my conditioning wasn't the best, and he was pretty motivated to play against me. It was a good match. I had my chances, but at the end, just a couple of points are the difference in these tennis matches."
Mena's teammate, senior Jorge Alfonzo, defeated three consecutive opponents to reach the quarterfinals of the consolation bracket after being defeated in the opening round of the singles bracket. Alfonzo lost his quarterfinal match to Indiana University's Brandon Lam.
TTU sent a total of five players to the tournament in Knoxville, which took place from Oct. 19-23
Junior Wenceslao Albin lost his opening round match and won his first-round consolation match before falling to Middle Tennessee State's Miguel Negre Fernandez.
Arthur Justo, one of the two freshmen on the tennis team, lost in his only two matches of the tournament, being defeated in his first-round match in both the singles and consolation brackets. The other freshman on the team, Gonzalo Garcia, ended his tournament run in the second round of the consolation bracket after losing his opening round match and defeating Eastern Kentucky University's Nic Castaldo in three closely contested sets.
Mena and Garcia also competed as a doubles team, winning their first-round match before falling in the second round to Jan Pallares and Felix Rauch of the University of Memphis.
"Maybe that affected my conditioning, but I don't regret it," Mena said of playing in both the doubles and singles brackets. "I would have done it again."
Albin and Justo also competed in doubles competition, but were defeated in their first-round contest by Indiana University's Afonso Salgado and Antonio Cembellin.
Mena is scheduled to compete in the Oracle Intercollegiate Tennis Association National Fall Championships in Indian Wells, California on Nov. 1.
He spoke confidently about the pressures of competing against the best tennis players in the nation.
"I think I'm pretty good right now," Mena said. "I'm feeling the ball very well. The best people in the country are going to be there. It's not going to be just me as one of the highest ranked people there. I just want to go out there and have fun, and, whenever I step on the court, try to compete. That's the most important thing for me."
Aside from Mena, the rest of the team is scheduled to compete in the Wake Forest Invitational, which is scheduled to begin on Nov. 3 in Winston-Salem, North Carolina.
Get Top Stories Delivered Weekly
More tntechoracle News Articles
Recent tntechoracle News Articles
Discuss This Article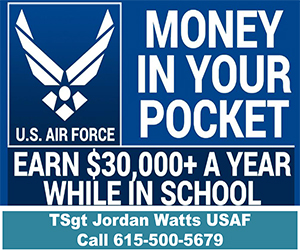 MOST POPULAR TNTECHORACLE
GET TOP STORIES DELIVERED WEEKLY
RECENT TNTECHORACLE CLASSIFIEDS
HOUSING

JOBS

FOR SALE

TUTORS
Tenessee Tech's pre-medicine program prepares undergraduate students for medical schools across the country, where TTU students become leading Chicago ophthalmologists,
LASIK Nashville
doctors and so many other top medical professionals.
TODAY'S PRINT EDITION