Post Classifieds
"Frankenstein" comes to the Backdoor Playhouse
By Rebecca Franey
On October 30, 2018
Frankenstein is brought back to life through a new lens that delves deeper into the philosophical question of creation. Tech Players perform the fall production "Playing with Fire (After Frankenstein)" by Barbara Field under the direction of Mark Creterbeginning Nov. 1.
Lining up with the 200thanniversary of Mary Shelley's "Frankenstein" and the Halloween season, Mark Creter, director and professor at Tech, chose the play because it was specifically written to adapt the novel to the stage. The twist? This play will make the audience see the characters differently compared to the classic film.
"There are some things that you expect in a Frankenstein play. They get to the heart of that creation, there is some violence, some real violence in the play and a lot of heavy emotion and confrontation," Creter said.
"It's a drama. It's a tragedy," James Alder, senior English major playing the Creature, said.
The play sets up the characters of Dr. Frankenstein and the Creature confronting each other in the present, while flashbacks interrupt throughout the play's duration, exposing the history of their relationship.
"It's a huge role, almost intimidating…and there are so many preconceived notions of what the Creature ought to look like and how he ought to speak and move. I want to subvert that in a way," Alder said.
A rarity in this play is that the two main characters stay on stage the entire time. The decision is a directorial concept.
"Even though there are a lot of actors on stage, we are primarily focused on each other and the tension that we've done a pretty good job of building between the characters," Joe Clark, English graduate student playing present Dr. Frankenstein, said. "The play constantly moves."
The cast is completed by Jacob Alexander, junior business management major playing young Victor Frankenstein; Josh Winscott, non-student playing Professor Krempe; Aaron Tapley, senior psychology major playing Adam (young Creature) and Michaela Crawford, sophomore communication major playing Elizabeth.
To prepare for the play, the Tech Players begin rehearsals five to six weeks in advance, five days a week, for three hours each night. Many of the Tech Players explained they best connect with their characters by constantly rereading the script and practicing movements on stage to build chemistry with each other.
Carrie Rozar, a senior English major, costumes the show. She must find and tailor clothes specifically for each actor in advance.
"I get a lot of liberty in the exact style and dress for the characters because the script doesn't lay everything out set in stone," Rozar said. "I go back to the script and then attend rehearsals to get a sense of the actors and their presence on the stage. That part helps the most."
During the performances, Kate Mucke, senior English major, runs the play as stage manager after coordinating production and design communication during the prep weeks to ensure all elements come together on opening night.
"I call the queues, lights, sound. I tell all of those when to go. I have a master script and from that I call the queues," Mucke said.
While Mucke is in the booth, Kaleigh Utterback, freshman pre-occupational therapy major, manages scene changes from backstage. According to Creter, having a good stage manager and assistant stage manager keeping track of the performance and extra details is what helps make the work leading to the play effective.
"…that moment when you realize something that started however many weeks or months ago and you're now seeing it live on stage is a very cool thing. It's a bit like a Dr. Frankenstein," Creter said.
The play will run Nov. 1, 2, 3, 5, 6, 9 and 10 at 8 p.m.; Nov. 8 at 10 p.m. and Nov. 10 at 2 p.m. Tickets are $5 for students, $12 for senior citizens and $15 for general admission.
This story was edited on Oct. 31, 2018.
Get Top Stories Delivered Weekly
More tntechoracle News Articles
Recent tntechoracle News Articles
Discuss This Article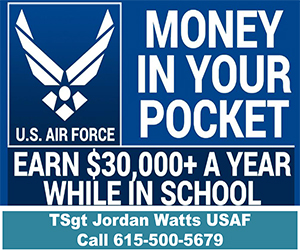 MOST POPULAR TNTECHORACLE
GET TOP STORIES DELIVERED WEEKLY
RECENT TNTECHORACLE CLASSIFIEDS
HOUSING

JOBS

FOR SALE

TUTORS
Tenessee Tech's pre-medicine program prepares undergraduate students for medical schools across the country, where TTU students become leading Chicago ophthalmologists,
LASIK Nashville
doctors and so many other top medical professionals.
TODAY'S PRINT EDITION