Post Classifieds
First graders flock to Farm Day
By Taylor Curtis
On April 9, 2019
First-graders from all around Putnam County had a first-hand encounter with agriculture at the annual Farm Day event held April 2 and 3 in Tech's Hyder-Burks Agricultural Pavilion.
Over 1,000 children gathered in Hyder-Burks and experienced dozens of learning stations that outlined key components of American agriculture. Students learned about livestock management, crop and plant sciences, farm safety, and how these components contribute to creating their meals, clothing, and other products used on a daily basis.
"At Farm Bureau, one of our most important initiatives is to inform the public about the value and relevance of agriculture. We feel very strongly that by starting that educational process at a very early age, then we will have a more agriculturally knowledgeable population of adults," said Phillip Baker, agency manager of Putnam County Farm Bureau.
Farm Day, also known as "Ag in the Classroom," is coordinated by Farm Bureau and the Tech School of Agriculture. The local agriculture community views participating in Farm Day as a type of family tradition, with many volunteers contributing for several years.
"I have been involved for 28 years, and it was going several years before I started. It is a community event, with around 200 volunteers each day. Farm Bureau and Tech are the organizers, but it's grown to much more with the support of the larger community," said Baker.
One branch of the community that helped in recent years is the Cookeville High School Agriculture Program. Abrial Norwick, CHS Senior, never attended Farm Day before and dedicated her time to working with the first-graders because she wishes she had exposure to agriculture at that age.
"It was great to be able to work with the kids, and see their faces light up. I was with the horse, and I loved seeing their excitement. I started riding horses when I was their age, and so seeing their smiling faces reminded me of that joy I felt when I came near a horse the first time," said Norwick. "I come from a city in Florida where agriculture was definitely not part of the conversation, and so these kids getting that opportunity to learn so early on will be so impactful. It's that education that they wouldn't learn other places, because it's so different to be here with the animals rather than just hearing about them in class."
Get Top Stories Delivered Weekly
More tntechoracle News Articles
Recent tntechoracle News Articles
Discuss This Article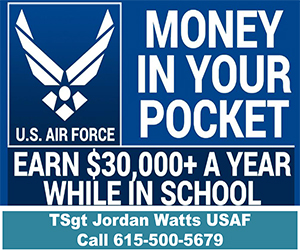 MOST POPULAR TNTECHORACLE
GET TOP STORIES DELIVERED WEEKLY
RECENT TNTECHORACLE CLASSIFIEDS
HOUSING

JOBS

FOR SALE

TUTORS
Tenessee Tech's pre-medicine program prepares undergraduate students for medical schools across the country, where TTU students become leading Chicago ophthalmologists,
LASIK Nashville
doctors and so many other top medical professionals.
TODAY'S PRINT EDITION