Post Classifieds
Alph Psi Phi holds annual convention in STEM Center
By Shane Foley
On April 3, 2014
"Ted," the summer smash starring Seth MacFarlane (voice-over,) Mark Wahlberg and Mila Kunis will be released on DVD Dec. 11. TheCinemaSource
The Alpha Psi Phi club held its annual Omnicon convention in the STEM Center this weekend. Despite having last-minute cancellations of a few guests, like Dameon Clarke, the convention still managed to attract more than 340 attendees. There was a large gaming room that was very active during all hours of the convention, full of attendees playing various video games and board games. There were also more than 20 vendors, including vintage memorabilia sellers, local artists, and game and comic book collectors.
The featured guest was Lauren Landa, a prominent voice-over artist in video games and anime. Landa recently got the part of the voice of Annie, a character in the hit anime series "Attack on Titan." Landa held several panels during her time at the convention, ranging from her experience with "Attack on Titan," as well as other voice roles she has had. There was also a screening of the film Redline, in which Landa had a supporting part.
Kelcie Evans was the assistant coordinator of Omnicon 2014 and co-chairman of Omnicon 2015.
"Our change in location was a big hit with the attendees of the convention," Evans said. "Everything in the STEM Center was easier to find and get to compared to the University Center. We were also very pleased with our vendor and attendees turnout. We had a much higher attendance this year compared to last year. Also, the fact that the convention was free to the public this year definitely made it more accessible to more people."
Evans said that the planning committee reached all of the goals they set for themselves during last year. She noted a 50 percent increase in attendance compared to the previous year, and the planning committee looks forward to setting the bar even higher for next year's convention.
Get Top Stories Delivered Weekly
More tntechoracle News Articles
Recent tntechoracle News Articles
Discuss This Article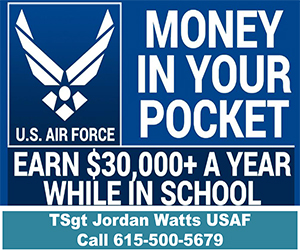 MOST POPULAR TNTECHORACLE
GET TOP STORIES DELIVERED WEEKLY
RECENT TNTECHORACLE CLASSIFIEDS
HOUSING

JOBS

FOR SALE

TUTORS
Tenessee Tech's pre-medicine program prepares undergraduate students for medical schools across the country, where TTU students become leading Chicago ophthalmologists,
LASIK Nashville
doctors and so many other top medical professionals.
TODAY'S PRINT EDITION