Post Classifieds
Graduate assistant for SGA to be added in fall
By Rosemary Apple
On April 11, 2013
SGA will add a new position this fall in order to help the bills that are passed move quicker through the process of being put into action.
"Sometimes bills take weeks to be put into action while others can take months," said Marc Burnett, vice president of student affairs. "It can be a long process, because they are reviewed by so many people in different committees and organizations."
He said in order to make this process quicker, Lee Gatts, a graduate assistant, will monitor the process of the bills starting this fall.
"We have never done this before, but I'm sure it will help things to be more beneficial and efficient on both ends," Burnett said.
"Bills are the most effective tool to formally address student concerns and recommendations for change," Ashley Humphrey, SGA vice president, said. "The time frame for action on bills varies depending on the nature of the legislation. Bills with greater financial impact generally take longer to implement than bills requiring minimal funding."
With a new position being added, all bills will be monitored and guided through the process.
Some bills that have been put into action include the stickers on light switches around campus encouraging students to turn the lights off to save energy. Another is the SOLO fund, which allows Tech to host an event every semester, such as the upcoming Aziz Ansari concert this semester. The fund also gives funding to student organizations on campus.
"Right now, bills that are being discussed include a text message system to alert students about all events on campus. It would be similar to the [emergency alert] system. Another is putting speed bumps on Dixie to protect students who cross the road," Burnett said.
Every week different proposals appear on the docket for SGA senators to vote on. Each one is presented by a senator, who sponsors the bill. After the respective senator presents the bill, the floor is then open for discussion where questions can be raised about the bill and arguments are made for or against the bill. After all sides are spoken for the bill goes to vote.
Once a bill is approved by the senate and the SGA president, it is sent to the Office of Student Affairs to determine the appropriate University committee to address the action. The committees are made up of faculty, administration and students to ensure full consideration by the various groups.
"I look at whether the bill can be done, [and] is it effective and more importantly, is it cost efficient?," Marc Burnett, vice president for Student Affairs said. "I always encourage the senators to do their research before they create a bill. Sometimes it's just not feasible."
 
Get Top Stories Delivered Weekly
More tntechoracle News Articles
Recent tntechoracle News Articles
Discuss This Article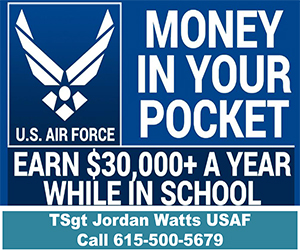 MOST POPULAR TNTECHORACLE
GET TOP STORIES DELIVERED WEEKLY
RECENT TNTECHORACLE CLASSIFIEDS
HOUSING

JOBS

FOR SALE

TUTORS
Tenessee Tech's pre-medicine program prepares undergraduate students for medical schools across the country, where TTU students become leading Chicago ophthalmologists,
LASIK Nashville
doctors and so many other top medical professionals.
TODAY'S PRINT EDITION