Post Classifieds
Good Old War releases new album, performs in Nashville
By Logan Nickleson
On March 15, 2012
Indie-folk trio Good Old War recently released "Come Back as Rain" and promoted it with a performance in Nashville. Tumblr
Pennsylvania indie-folk trio Good Old War performed several songs from its impressive March 6 release, "Come Back As Rain," in downtown Nashville, Tenn., at 3rd and Lindsley Bar and Grill on March 11.
Both the new album and the performance served as a testament to the band's ever-growing talent for crafting enjoyable, high-caliber pop tunes. Good Old War, together with The Belle Brigade and The Devil Makes Three, found an enthusiastic crowd at 3rd and Lindsley Sunday night.
The Performance
The approachable trio of Good Old War followed The Belle Brigade's high-energy set, playing a handful of fan favorites from each of its three albums, clearly having fun while doing it.
In "Weak Man" and "Window," guitarist Daniel Schwartz awed onlookers with his swift, accurate fingers during extended solos.
Drummer Tim Arnold humored and entertained the audience with mischievous, infectious smiles and various antics throughout the set, like making wild animal sounds during "Just Another Day" and performing a rough cover of a popular 1990s R&B hit in-between songs.
"Woody's Hood Boogie Woogie," a guitar-driven, light-hearted tune from Good Old War's self-titled sophomore release, immediately animated the great mob of fans, enticing many to dance.
Among the newest material performed were songs "Can't Go Home," "Calling Me Names" and "Better Weather." Each was executed flawlessly and received favorably by listeners.
Good Old War wisely chose to end its set with "Coney Island," the single from its 2008 debut "Only Way To Be Alone." It was a song the audience, whose voices nearly drowned out the performers, knew well.
The entire performance was recorded as part of a local radio show, constraining the band to a short, controlled set. After the last song, a panicky radio host unsuccessfully attempted to read a rehearsed script above the disappointed audience's persistent, tribal-like chant of "one more song."
Good Old War exited the stage, apologizing for being unable to play more songs.
The Album
Joining Good Old War's two previous masterpieces, "Come Back As Rain" stands as yet another collection of near-perfect songs from the three musicians.
The band revisits its trademark sound on the record. Impossibly tight three-part harmonies again act as the backbone of the instantly catchy folk songs, bolstered by Goodwin's smooth, airy vocals, Schwartz's bright, intricate guitar melodies and Arnold's brushed snare and punchy kick drum.
The new songs vary in level of vigor, lyrical subject matter and emotion, but the album as whole maintains an upbeat disposition.
"Amazing Eyes" is a ballad-like composition comprised of earnest lyrics, subtle piano and the signature chime of a 12-string guitar.
Built around playful vocal harmonies and guitar riffs that show off Schwartz's prowess, "Better Weather" acts as one of the record's stronger pieces.
"Touch the Clouds (Taste The Ground)" is a creative tribute to moving beyond the past and living in the present. In the song, Goodwin sings, "I've been so high I touched the clouds. I've been so low I could taste the ground. Well, it's all history. Look at me now."
The pleasantly repetitive "Loud Love" features lead vocals from each member of the band during the verses, which is a first for the trio.
Get Top Stories Delivered Weekly
More tntechoracle News Articles
Recent tntechoracle News Articles
Discuss This Article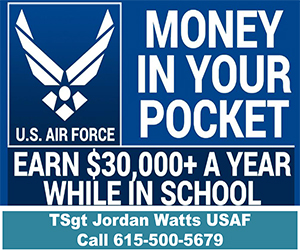 MOST POPULAR TNTECHORACLE
GET TOP STORIES DELIVERED WEEKLY
RECENT TNTECHORACLE CLASSIFIEDS
HOUSING

JOBS

FOR SALE

TUTORS
Tenessee Tech's pre-medicine program prepares undergraduate students for medical schools across the country, where TTU students become leading Chicago ophthalmologists,
LASIK Nashville
doctors and so many other top medical professionals.
TODAY'S PRINT EDITION