Post Classifieds
Editor's top 30 movies of 2013
By Jake Threet
On January 30, 2014
Senior Claudia Harke delivers a home pitch during last weekend's match up against Southeast Missouri. Harke's pitching helped the Golden Eagles take both games from SEMO and one from UT-Martin. James Dillion
2013 was an outstanding year for film. It was one of best that I can remember for some time. I was literally in the movie theater every weekend of this past year, except for a handful. Often, I would watch more than one movie a week, and I probably watched around 50 films, cumulatively. We're five weeks away from the 86th Annual Academy Awards and a lot of the films nominated are back, showing in theaters locally and around the nation.
I've compiled my list of the top 30 films from last year and, while some of the films are nominees and have been this whole awards season, others are just great films I've seen that deserve to be mentioned. Granted, I've not seen every award season worthy film released this year. There are a couple of films like, "Inside Llewyn Davis" and "Enough Said," that would probably be on the list, but, unfortunately, I did not get the chance to see them. The list below contains the best films that I did see, though.
1. Gravity
Honestly, it was a real tossup between number one and two and some days my opinion changes, but, for now, I'm giving it to Gravity. Sandra Bullock gives the best performance of her career in the best visual effects movie I've ever seen.
2. American Hustle
Amy Adams and Jennifer Lawrence steal every scene in which they appear, in a film that could have been a major hit in the 70s as well. Outstanding film.
3. 12 Years a Slave
It is the true story of one man's absolutely heart wrenching and brutal life as a kidnapped slave that deserved this big screen adaptation.
4. Mud
Only the beginning of what was to be Matthew McConaughey's outstanding year in cinema. This is an instant cult classic that will last forever.
5. Captain Phillips
Easily Tom Hanks' best film in years 10 years. The last 15 minutes will make your heart stop.
6. The Heat
This is the best comedy film of the year, with two of the best actresses in Hollywood, starring Sandra Bullock and Melissa McCarthy.
7. The Way Way Back
Another instant cult classic that will make you laugh, cry, and want more. Sam Rockwell is perfection.
8. Dallas Buyers Club
Stunning, crazy, intense, heart breaking and courageous are a few words to describe this film. Matthew McConaughey and Jared Leto's body transformations in the film are absolutely shocking and mind blowing.
9. The Secret Life of Walter Mitty
Ben Stiller directs and stars in this beautiful, poignant film about one man's journey to finding himself.
10. Hunger Games: Catching Fire
Katniss and the gang got an even bigger production budget for this sequel and it paid off big time. It was a thrilling, heart pounding ride for audiences.
11. The Wolf of Wall Street
Although the content and language may not be watchable for some, Martin Scorsese manages to make a really extraordinary film. Leo DiCaprio also gives an out of this world performance.
12. Saving Mr. Banks
Emma Thompson will make you laugh out loud, rip your heart out, and then make you smile in this surprisingly powerful film.
13. Rush
The film, based on a true story, takes the viewer through the intense rivalry between former Formula One drivers Niki Lauda and James Hunt.
14. August: Osage County
Meryl Streep and Julia Roberts are national treasures that do no wrong in an incredibly dark, yet funny film. It features an outstanding supporting cast, as well.
15. Blue Jasmine
Cate Blanchett is absolutely amazing in this career defining performance. It's an honest, real, and emotional film written and directed by Woody Allen.
16. Her
17. Prisoners
18. Bad Grandpa
19. Philomena
20. Nebraska
21. About Time
22. The Spectacular Now
23. Out of the Furnace
24. World War Z
25. Man of Steel
26. 42
27. Thor: The Dark World
28. We're the Millers
29. Side Effects
30. Anchorman 2: The Legend Continues
I only hit the highlights for the top 15, but the remaining 15 films are outstanding as well and I highly recommend any of them. While many of these films are showing in theaters again, a lot are already available on DVD or will be before the Oscars. It's not often that we get so many good movies releases in a single year, but 2013 was one for the books. Take a few hours and enjoy what 2013 gave us in film.
Get Top Stories Delivered Weekly
More tntechoracle News Articles
Recent tntechoracle News Articles
Discuss This Article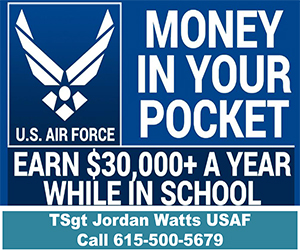 MOST POPULAR TNTECHORACLE
GET TOP STORIES DELIVERED WEEKLY
RECENT TNTECHORACLE CLASSIFIEDS
HOUSING

JOBS

FOR SALE

TUTORS
Tenessee Tech's pre-medicine program prepares undergraduate students for medical schools across the country, where TTU students become leading Chicago ophthalmologists,
LASIK Nashville
doctors and so many other top medical professionals.
TODAY'S PRINT EDITION