Post Classifieds
Vice President Soni plans to double University research initiatives
By Jordan Blair
On January 30, 2014
Students show off their very own Rube Goldberg machine. Photo Services
Dr. Bharat K. Soni, vice president of research and economic development, spoke about his plans of innovation and research development for Tech at the SGA meeting Tuesday night.
"Innovation can happen any place, any time," said Soni. "We want graduates who are not job seekers, but job creators."
Soni's said his main focus for Tech is to encourage innovation, provide economic development for the community, and get students involved with his program.
Soni said simulations and virtual environments are on the top of his to-do list. He said he expects an Immersive Visualization Environment to be placed on the third floor of the library by June of 2014. The Immersive Visualization Environment will consist of a visualization cube that requires students to wear 3D glasses and includes 3D TVs and head mounted display systems (HMDs). The visualization cube allows students to virtually explore things such as the human heart, car engines, or aircrafts.
Another plan Soni said he has for expanding research and economic development is to have a TTU Innovation Center built in the Highland Tech Park, which consists of roughly 300 acres of land designated to bring in new industries and companies.
"Through the Innovation Center, we will be able to work better with the community," said Soni.
Soni said he encourages students to become involved in his research and the projects he will conduct.
"If you have the drive for it, you can join," said Soni.
SGA College of Engineering senator Scott Hill said he thinks it is important to involve students in innovative ideas and projects.
"Encouraging more innovation from the student body will lead to more future business owners and entrepreneurs; our economy desperately needs these kinds of people right now," said Hill.
"Some of the best and most innovative ideas come from research and development opportunities offered by universities that get behind their students and fully support the ideas they come up with," said Kyle Bieze, a senator of SGA from the College of Engineering. "I'm very grateful that Dr. Soni has plans to offer more of these opportunities to our students, and I believe these changes could make Tennessee Technological University a more valuable and prestigious university."
Soni has earned a B.S. and M.S. in statistics and has a Ph.D. in applied mathematics. Before accepting his position at Tech, Dr. Soni served as the chairman of the department of mechanical engineering at the University of Alabama at Birmingham.
If interested, email Soni at bsoni@tntech.eduor stop by his office in Derryberry 305. To learn more about the Immersive Visualization Environment, visit www.vrs.org.uk/.
Get Top Stories Delivered Weekly
More tntechoracle News Articles
Recent tntechoracle News Articles
Discuss This Article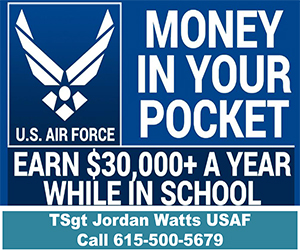 MOST POPULAR TNTECHORACLE
GET TOP STORIES DELIVERED WEEKLY
RECENT TNTECHORACLE CLASSIFIEDS
HOUSING

JOBS

FOR SALE

TUTORS
Tenessee Tech's pre-medicine program prepares undergraduate students for medical schools across the country, where TTU students become leading Chicago ophthalmologists,
LASIK Nashville
doctors and so many other top medical professionals.
TODAY'S PRINT EDITION