Post Classifieds
Awesome Eagle wins UCA Mascot National Championship
By Alyssa Adkinson and Logan Shrum
On January 30, 2014
Oracle Archive
Tech's mascot, Awesome Eagle, was crowned with the coveted gold medal when he won first place at the 2014 Universal Cheerleading Association Mascot National Championships at Walt Disney World over winter break.
Awesome competed with a minute-and-a-half long skit against four other mascots from across the country to claim his first nationally recognized award. His competitors included Roomie the Lion from Southeastern Louisiana University, WU Shock from Wichita State University, Wiley D Wildcat from Wilmington University, and YoUDee, the blue hen from the University of Delaware.
Tech's mascot has lost to Delaware at competition the last three consecutive years. Last year, Awesome missed the gold by only a half a point. Additionally, YoUDee has won four out of the past five years' competitions.
"That alone was the biggest victory," Awesome said. "Beating out the other mascots was icing on the cake."
To gain entry into this year's contest, Awesome and his group of assistants sent in a two-minute highlight reel of everything the mascot had done over the past year. The judging of that video resulted in 50 percent of Awesome's overall score.
Once Awesome was accepted into the competition, the cheerleading managers began working with him on a weekly basis on ideas for the skit. The team decided to construct an office themed skit.
"We built everything from an oversized briefcase with a set of Hanes briefs on the inside to a cartoon-sized water cooler that transforms into a giant jug of 5-Hour Energy," said Awesome. "The team and I pulled crazy fourteen hour work days basically every day of winter break."
Caitlin Jones, a four-year veteran of the Tech cheerleading team was present at the event. She said the excitement of the moment that Awesome Eagle was announced as National Champion as "indescribable."
"Tennessee Tech is finally on the map," Jones said. "We could not have a more perfect mascot to represent the wonderful university we are."
When Awesome won the National Championship, the fans responded as fans would in any other sport. A cavalcade of fans rushed the floor and embraced Awesome while he clutched his newly acquired trophy.
"It was one of those 'too good to be true' moments," said Derek Sawyer, junior cheerleading manager. "It felt unrealistic."
The cheer and dance teams also competed on the national level at Disney World at the same competition. The dance team placed in the top 10 of more than twenty Division 1 teams, while the cheerleaders ranked in the top 20 in their respective competitions.
Members of both teams said they were happy with their performances at Nationals.
"As a team we bonded a lot, worked together, and we're proud of ourselves," said freshman Cassidy Sage, dance team member. "We worked hard for months and were only on stage for two minutes."
Awesome said he was also proud of his performance and his representation of the University.
"I'm still in shock," Awesome Eagle said. "It really feels awesome to be a national champion. This was my first time winning the whole thing, but look out, America, because I'm not even close to done! Go, Tech!"
Get Top Stories Delivered Weekly
More tntechoracle News Articles
Recent tntechoracle News Articles
Discuss This Article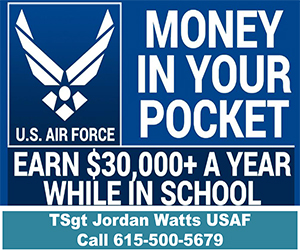 MOST POPULAR TNTECHORACLE
GET TOP STORIES DELIVERED WEEKLY
RECENT TNTECHORACLE CLASSIFIEDS
HOUSING

JOBS

FOR SALE

TUTORS
Tenessee Tech's pre-medicine program prepares undergraduate students for medical schools across the country, where TTU students become leading Chicago ophthalmologists,
LASIK Nashville
doctors and so many other top medical professionals.
TODAY'S PRINT EDITION