Post Classifieds
Stellar cast, awesome writing make 'The Good Wife' must-see TV
By Jake Threet
On February 6, 2014
The 85th Academy Awards ceremony will take place this Sunday on ABC with presenters including. Jennifer Aniston, Sandra Bullock, Melissa McCarthy, John Travolta, Jamie Foxx, and the casts of "The Avengers" and "Chicago".
Often each year, I go through a phase of catching up on currently airing TV shows that I may not have been interested in when they first came on the air, but after seeing a promo for an upcoming episode or catching five minutes here or there of one I think "Hmm, maybe this is a show I would like." So is the case with the last TV show I caught up on, 'The Good Wife'.
I have always been a fan of Julianna Margulies ever since her days on ER. She and that whole show have a special place in my heart, but that's another story. Back in late October, I happened to catch the promo for the episode, "Hitting the Fan," for its current fifth season and I was very caught up with it. I literally watched it 10 times on YouTube to satisfy my intrigue. The more I thought about it, the more I realized I had to catch up on this show. Not over Christmas break, but immediately. Long story short, four and a half seasons and 99 episodes later, I was caught up with 'The Good Wife' in time for the airing of its 100th episode. It is possibly the best choice I have made concerning new TV shows to binge watch.
Now, I'm not going to go into detail about all the happenings and plot twists of the four seasons. That would be a novel in itself, but the basis of the series is that Alicia Florrick (Margulies) was the wife of a former state's attorney for Cook County. He was imprisoned after being caught up in a sex and corruption scandal. Alicia had to come to terms with the public embarrassment, and go back to work to support herself and her two children. After years of being a stay-at-home mom and wife, she returned to work as a litigator at the law firm Stern, Lockhart & Gardner. She then had to prove herself in the courtroom.
That was just the beginning concept of the series and many events, scandalous affairs, court room battles, relationships, and deceptions have happened over the course of these last 102 episodes. Once you start, it is like a thrilling roller coaster ride of which you do not want to get off.
The best part of 'The Good Wife' is that it felt like a brand new show at beginning of current season, and, halfway through the season, it still does. It has raised the bar for shows being able to reinvent themselves and stay fresh for audiences. It's not often that a show can reinvent itself to become something so magnificent that audiences and critics are calling it the best drama on television for the first time, five years after its initial season. I do not want to discredit those first four seasons in the slightest because they were each exceptional, especially the first season. This fifth season, however, came out guns blazing and full steam ahead and has yet to let up.
Audiences and critics like go back and forth on what is the best drama on television, airing on both cable and network, and now that 'Breaking Bad' is off the air I firmly believe that 'The Good Wife' is solid in the number one spot. This is coming from someone who loves shows like 'Downton Abbey', 'Scandal, and 'Sons of Anarchy.' Those shows are awesome in their own way, but this fifth season of 'The Good Wife' is something extraordinary.
Margulies is surrounded by an outstanding supporting cast who, each week, rise to the occasion to make awesome television. Starring along with her are Josh Charles, Archie Panjabi, Matt Czuchry, Christine Baranski, Alan Cumming, and Chris North. The chemistry between each and every one of the cast members flows so organically that when they hit you hard with emotions, you feel it as a viewer. Even the guest stars are perfect and, let me tell you, when you have great guest stars that only fuels the excellence of a show. 'The Good Wife' has showed it has the talent, the writing, and the perfect mixture of, well, everything. There is nowhere to go but up.
Currently on mid-season hiatus until March 9th, now is the perfect time to sit down and catch up on 'The Good Wife,' because it's only going to get better from here.
'The Good Wife' airs Sundays at 9/8 central on CBS.
Get Top Stories Delivered Weekly
More tntechoracle News Articles
Recent tntechoracle News Articles
Discuss This Article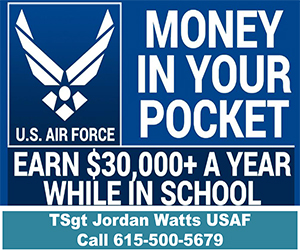 MOST POPULAR TNTECHORACLE
GET TOP STORIES DELIVERED WEEKLY
RECENT TNTECHORACLE CLASSIFIEDS
HOUSING

JOBS

FOR SALE

TUTORS
Tenessee Tech's pre-medicine program prepares undergraduate students for medical schools across the country, where TTU students become leading Chicago ophthalmologists,
LASIK Nashville
doctors and so many other top medical professionals.
TODAY'S PRINT EDITION