Post Classifieds
Out with Grammer, in with Augustana
By Courtney Dodd
On September 26, 2013
Gay. Sports Information
Augustana will replace Andy Grammer as the opening act for the upcoming S.O.L.O. concert. Grammer's booking agent informed the Tech Activities Board of the cancellation on Friday, Sept. 20.
"'He's got some personal issues' is what we're told," said student activities coordinator Katie Williams.
According to Williams, Grammer confirmed with Tech to perform but did not go through with a contract due to his personal problems.
"We don't know the nature of those and can't really ask what the nature of those are, but that's the issue," said Williams.
Augustana will now open for The Fray. The rock band is from San Diego, California and is best known for its songs "Boston" and "Sweet and Low." The band rose to stardom in 2005 and the members continue to be recognized faces in the music industry. There was a possibility Grammer could have performed a solo act if his band members were unavailable. However, Grammer's booking agent informed TAB that is was Grammer himself who was unable to perform.
"There's an option-we could do a solo acoustic with him if it were a member of his band that was having an issue," Williams said.
There were mixed emotions regarding the replacement of the opening act.
"I don't know him that well but I feel it would have been really awesome to have him," said sophomore Sean Murphy.
Other students were upset to hear that Grammer will no longer be performing.
"It makes me sad that Andy Grammer cancelled because I love [him]," said junior Hayley Brown.
"I wanted Andy Grammer," said sophomore Allison Barlow. "He's so cute and beautiful."
Some students were excited about the change.
"I won't sell my ticket to a high schooler anymore," said sophomore Jordan Pace. "I'll go to the opener and then leave."
Williams said SGA has a committee that determines the opening acts based on what students want and what the student provided S.O.L.O. budget will allow.
"I hope it's representative of the students since SGA is the governing body," said Williams.
"I am extremely excited about Augustana opening for The Fray," said junior SGA secretary Daniel Tribble. "They are a band with a classic rock sound and have had several hit songs. I am confident that this concert is going to be another great show, just like Dierks Bently and Aziz Ansari were last year. We haven't had a rock band come since the Goo Goo Dolls in 2011 and I think that Tech student are excited to see that genre return to the Hoop."
The S.O.L.O. concert will be Oct. 8 at 8 p.m.; doors open at 7 p.m.
Get Top Stories Delivered Weekly
More tntechoracle News Articles
Recent tntechoracle News Articles
Discuss This Article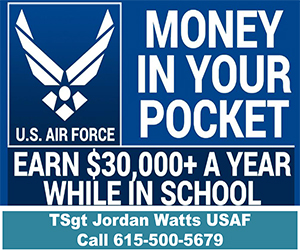 MOST POPULAR TNTECHORACLE
GET TOP STORIES DELIVERED WEEKLY
RECENT TNTECHORACLE CLASSIFIEDS
HOUSING

JOBS

FOR SALE

TUTORS
Tenessee Tech's pre-medicine program prepares undergraduate students for medical schools across the country, where TTU students become leading Chicago ophthalmologists,
LASIK Nashville
doctors and so many other top medical professionals.
TODAY'S PRINT EDITION