Post Classifieds
Cadets practice field exercises, Oldham rides in helicopter from Walton House front lawn
By Logan Shrum
On April 10, 2014
President Oldham stands beside one of the Black Hawk helicopters that landed in the front lawn of the Walton House Sunday afternoon. (Via Kari Oldham)
ROTC Cadets from Tech's Golden Eagle Battalion conducted the annual Ranger Field Training Exercise (FTX) in Smyrna from Friday, April 4 to Sunday, April 6 in order to demonstrate their knowledge of military tactics, as well as gain valuable experience leading fellow soldiers.
The Ranger FTX is an annual event in which the TTU Ranger Club, in conjunction with the ROTC junior class conducts rifle qualifications, as well as various missions throughout the three-day training event. This year, a UH-60 Black Hawk helicopter ride back to campus was included, courtesy of pilots from the 230th Air Cavalry, rather than the typical van ride, ending with all three Black Hawks, which were incorporated in the operation, landing on President Oldham's lawn around noon on Sunday.
Professor of military science Lieutenant Colonel Dominic Ciaramitaro said the Ranger FTX has been used in past years to allow the ROTC Ranger Club, which consists of "some of our most elite and well-trained cadets in the program," to learn valuable tactical skills, as well as allow the club to experience real life situations. This year, the junior class was brought along in order to take full advantage of the training opportunity.
"We did things a little different this year to get our juniors more involved and it really paid off ," said LTC Ciaramitaro. "The Ranger FTX is their culminating event after a year of specialized training. By including all of our juniors, we really capitalized on the experience."
When asked about his favorite part of the FTX, Lane Wolfenbarger, a freshman Ranger Club cadet, said, "Everyone was able to be a leader, and the seniors and cadre went above and beyond to make it more realistic than normal."
Sam Dickson, a junior ROTC cadet and Ranger Club member said there were more variables in this year's FTX than there have been in past years.
"It gave us real world experience outside of a university training area with equipment that we typically do not get to use, like the M4 rifles," Dickinson said.
Once all ROTC cadets had exited the helicopters, President Oldham, along with several others, had the opportunity to board one of the Black Hawks and participate in a flyover of campus as onlookers took pictures and waved.
Shortly thereafter, the helicopter landed allowing the President and his fellow passengers to safely exit the aircraft.
Get Top Stories Delivered Weekly
More tntechoracle News Articles
Recent tntechoracle News Articles
Discuss This Article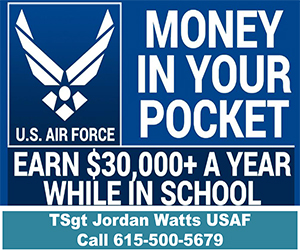 MOST POPULAR TNTECHORACLE
GET TOP STORIES DELIVERED WEEKLY
RECENT TNTECHORACLE CLASSIFIEDS
HOUSING

JOBS

FOR SALE

TUTORS
Tenessee Tech's pre-medicine program prepares undergraduate students for medical schools across the country, where TTU students become leading Chicago ophthalmologists,
LASIK Nashville
doctors and so many other top medical professionals.
TODAY'S PRINT EDITION