Post Classifieds
Must see movies in May, summer preview
By Jake Threet
On April 10, 2014
Amber McKinney (left) and Hannah Harris help build the House on the Wall in the RUC. Will Housley
Movies, movies and more movies! This summer looks to be a great time for movies-goers and I am really excited to have back-to-back summers that are full of great films. Below, I'm going to kick things off in May, because that's when the fun begins and it looks to be the most jam packed month.
'The Amazing Spiderman 2'
Now I will admit, I have yet to see the first one. I was biased when it first came out and was totally against rebooting the series. As they say, time heals all wounds and the new trailer for the sequel looks really good. The action looks intense and has sparked my interest. So, begrudgingly, I am going to watch the 'The Amazing Spiderman' before going to see the sequel. Hopefully, I will be pleasantly surprised. 'The Amazing Spiderman 2' is rated PG-13 and swings into theaters on May 2.
'Neighbors'
It's about time we get a good comedy out this year. I've been hearing nothing but good things about this film from those whose have already had a chance to see it at special screenings. They say the trailer does not do the film justice in how hilarious the film is. I hear it's pretty vulgar and raunchy, but I'm always down for a good naughty laugh. The setup of the film is that a couple with a newborn baby move into a new neighborhood and face unexpected difficulties following the establishment of a fraternity house in the adjacent residence. An intense conflict between the two parties ensues. The films stars Seth Rogen, Zac Efron, Rose Byrne and Dave Franco. 'Neighbors' is rated R for pervasive language, strong, crude and sexual content, graphic nudity, and drug use throughout and arrives in theaters on May 9.
'Godzilla'
I have been waiting for this since the day they announced they were remaking it. The only thing I can say about this is "watch the trailer." It is amazing how good this looks and I am hoping that it thrills us. Sorry, Matthew Broderick and the 1998 remake, but I believe this one is going to be far and away the best remake of them all (fingers crossed). The films stars Aaron Taylor-Johnson, Bryan Cranston, and Elizabeth Olsen. 'Godzilla' is not yet rated and opens in theaters May 16.
'X-Men: Days of Future Past'
The second Marvel film to be released this year after 'Captain American: The Winter Soldier', which was awesome and you need to see, is the highly anticipated sequel to 2011's 'X-Men: First Class' and 2006's 'X-Men: Last Stand.' The whole gang, old and new faces, is together in this film and I could not be more excited. The budget is huge and I cannot wait to see where this group of heroes and mutants goes. 'X-Men: Days of Future Past' opens in theaters May 23.
'Maleficent'
Oh, how I love the Disney villains. Ever since I was little, I have always been a fan of the villains. Don't get me wrong, I love when the good guy wins, but the villains have always had a special place in my heart. You name them from Maleficent and The Evil Queen to Cruella de Vil and Hades (my personal favorite), the villains are the best. This live action movie starring Angelina Jolie looks haunting in the trailer. Jolie is exactly as what someone would picture Maleficent to be if not a cartoon. The haunting voice is there and the horns are ever so scary. 'Maleficent' is rated PG and comes to theaters May 30.
Didn't I tell you May was going to be a blast at the movies? That's all I've got room to go in detail about, but June, July, and August offer some great stuff, as well.
In June, be sure to check out: 'The Fault in Our Stars,' '22 Jump Street,' and 'Think Like a Man Too.'
In July, look out for: 'Tammy,' 'Dawn of Planet of the Apes,' 'Jupiter Ascending,' 'The Purge: Anarchy,' and 'Sex Tape.'
In August, don't miss: 'Guardians of the Galaxy,' 'Lucy,' 'Teenage Mutant Nina Turtles,' 'The Expendables 3,' and 'The Giver.'
That's just a taste of what is coming and what has yet to be announced. All movie information can be found at fandango.com.
Get Top Stories Delivered Weekly
More tntechoracle News Articles
Recent tntechoracle News Articles
Discuss This Article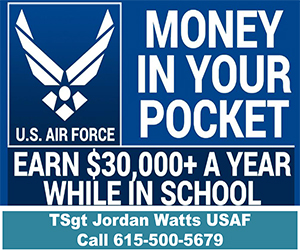 MOST POPULAR TNTECHORACLE
GET TOP STORIES DELIVERED WEEKLY
RECENT TNTECHORACLE CLASSIFIEDS
HOUSING

JOBS

FOR SALE

TUTORS
Tenessee Tech's pre-medicine program prepares undergraduate students for medical schools across the country, where TTU students become leading Chicago ophthalmologists,
LASIK Nashville
doctors and so many other top medical professionals.
TODAY'S PRINT EDITION