Post Classifieds
"About a Boy" absolutely delights
By Jake Threet
On March 20, 2014
Black. Will Housley
I told myself I wasn't going to get wrapped up in another television show this TV season. We've almost made it to the ending stretch of the year, but last week, I ate my words. I had seen commercials about NBC's new comedy 'About a Boy' multiple times previewing it to come on after the Olympics. I was halfway turned off then because the Winter Olympics just do no interest me and I have no time for it. Color me un-patriotic, but I don't care. Nonetheless, last week I got through catching up on a few shows on Hulu and, what do you know, the next recommendation to watch was the pilot episode of 'About a Boy'. Most of the time, I ignore the urge to listen to these recommendations, but this time was different. I found a place in my closed off, television latent heart.
I am glad that I had this momentary lapse in judgment because I absolutely fell for this show. It is the first comedy on NBC that has given me some hope in years and gave me optimism in its potential to still provide great sitcoms. Oh, how I long for the days of 'Friends' and 'Will & Grace'. Side note: I thought 'The Michael J. Fox Show' was the answer and was mistaken. Whoopsie, my bad!
Back to the show at hand, though. 'About a Boy' is smart, funny, and heartwarming. I hate using the word "heartwarming," because it's so habitually used but, in this case, it's the correct term.
The show stars Will (David Walton) as a successful songwriter and bachelor living a carefree life as the "ultimate man-child". His perfect world is turned upside down when single mom Fiona (Minnie Driver) and her 11-year-old son Marcus (Benjamin Stockaham) move in next door. The heart and soul of the show is the relationship between David and Marcus and how each help one another through life's many obstacles and navigate its adventures.
Sure, the idea of a grown man and a teenage boy hanging out all the time and being best friends is odd and maybe even unbelievable in some ways. After you throw away the initial idea of any creepiness, you'll soon find that this show is so much more real than you think. It's about how two people who don't have anyone else who really gets them in life. They're the ying to each other's yang. David provides the confident, outgoing, and typical guy personality. Marcus, on the other hand, is like an old soul. He's kooky, he's quite, and he's really unsure of life. Together, these two create some pretty awesome chemistry on screen. There's only been four episodes to air, so far, but each one has provided moments of laugh out loud laughter mixed in with those that will make most any person's heart a little warmer or, at least, unthaw it a bit.
The two main leads are not alone in adding to the mix that makes this show work so well. Driver really intertwines Fiona's character into the story in way that is lovely and funny. She doesn't have the biggest part in every episode, but her presence is needed and is so welcoming. Playing the part of David's married friends, Andy (Al Madrigal) and Laurie (Annie Mumolo), provide some of the best laughter the show offers.
Only four episodes into the season, there is plenty of time to watch them quickly before it airs again next week. With solid ratings for the network, chances are great for a renewal. And, for those of you who are like me and think, "God I can't start another one", at least try it. Trust me, it's worth the chance.
'About a Boy' airs Tuesday nights on NBC at 8/7 central.
Get Top Stories Delivered Weekly
More tntechoracle News Articles
Recent tntechoracle News Articles
Discuss This Article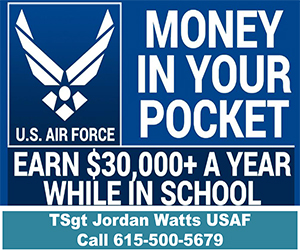 MOST POPULAR TNTECHORACLE
GET TOP STORIES DELIVERED WEEKLY
RECENT TNTECHORACLE CLASSIFIEDS
HOUSING

JOBS

FOR SALE

TUTORS
Tenessee Tech's pre-medicine program prepares undergraduate students for medical schools across the country, where TTU students become leading Chicago ophthalmologists,
LASIK Nashville
doctors and so many other top medical professionals.
TODAY'S PRINT EDITION