Post Classifieds
Best in Country
Josh Turner headlines night of country music at S.O.L.O. Concert
By Jordan Blair
On February 28, 2014
Tech students had many problems while registering for fall classes. ITS hopes that upgrades to the website and its speed will prevent the problem from happening during future registration periods. Kaylee Gentry
Country music star Josh Turner performed in the Hooper Eblen Center on Feb. 27, with special guests Eric Paslay and Brent Cobb.
"Back in the fall, SGA executive officers met and decided which genres would be chosen for the students to vote for," said SGA Secretary Daniel Tribble. "This semester's genre was originally labeled as 'other' allowing for a genre to be repeated or a new genre selected, all determined by the students' vote. With the help of the SOLO Band Selection Committee, we selected bands that were in our budget and available to come on the possible dates we had open. Josh Turner was one of the final selections on the list of country bands and won."
Turner has produced five platinum-selling albums that have earned him GRAMMY, ICMA, CMA, and ACM nominations. Turner's unique baritone voice and chart-topping hits have set him apart from other country music artists.
"We have completely reworked our show and set," said Turner. "We've thrown in new video content that is interactive with the crowd. We intentionally create our show so that it is energetic and entertaining no matter where we go. I'm pretty proud of where we're at."
Originally from South Carolina, Turner moved to Nashville in 1998 to further his career in music at Belmont University.
"While I was at Belmont, I was still trying to figure out my style and my sound," said Turner. In 2003, he released his first debut album, Long Black Train, through MCA Nashville Records.
Punching Bag, the latest record released by Turner in 2012, includes hits such as "Time is Love" and "Find Me a Baby." Singles from other albums have reached the top ten on various country music charts, including "Would You Go with Me," "Firecracker," and "Why Don't We Just Dance."
Unlike most artists, Turner keeps his family with him while he is on tour. His wife, Jennifer, plays the piano and sings backup during shows.
"We've realized we work better as a team," said Turner. "When we started having kids, of course they came with us. We've evolved into this traveling family."
Special guest Eric Paslay is a new and upcoming artist with his new album just released on Feb. 4.
"Eric actually went to school with my brother at MTSU, so we have watched him go from a struggling star and college student to an artist," said Turner. Paslay has previously opened for Eli Young Band, Little Big Town, and Jake Owen. He has co-written songs such as "Barefoot Blue Jean Night" by Jake Owen, "Even If It Breaks Your Heart" by Eli Young Band, and every song on his debut album. For more information about Eric Paslay, visit http://www.ericpaslay.com/index.html.
Brent Cobb, the second special guest of the concert, is currently on his 2014 promotional tour with HD Radio. Cobb was signed by Carnival Music in Nashville as a songwriter in 2009. He has written songs such as "Rockaway" by Kellie Pickler, "Tailgate Blues" by Luke Bryan, and "Go Outside and Dance" by Eli Young Band. Cobb has recently recorded his first EP collection as an artist himself to sell at his shows. For more information about Brent Cobb, visit http://www.brentcobb.net/.
Get Top Stories Delivered Weekly
More tntechoracle News Articles
Recent tntechoracle News Articles
Discuss This Article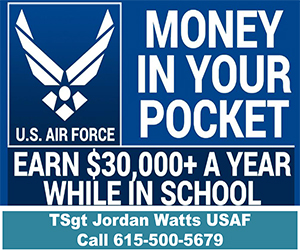 MOST POPULAR TNTECHORACLE
GET TOP STORIES DELIVERED WEEKLY
RECENT TNTECHORACLE CLASSIFIEDS
HOUSING

JOBS

FOR SALE

TUTORS
Tenessee Tech's pre-medicine program prepares undergraduate students for medical schools across the country, where TTU students become leading Chicago ophthalmologists,
LASIK Nashville
doctors and so many other top medical professionals.
TODAY'S PRINT EDITION