Post Classifieds
Window on the World festival returns, offers expanded schedule
By Nick Rollins
On April 13, 2012
Window on the World returns for its 14th year at Tech. Due to increasing attendace, the festival has expanded its schedule to include the new Derryberry Auditorium location. Photo Services
Window on the World is set to kick off its 14th year at Tech, April 13.
WOW is a two-day international symposium and festival sponsored by the Globalization Committee of the College of Business.
WOW will take place at the RUC, as well as Derryberry Hall, which is a new addition this year. The first event will be a symposium at 10:10 a.m. April 13 in the RUC Multipurpose Room, followed by the festival from 10 a.m. to 5 p.m. on April 14.
Hans-Herbert Jagla, executive vice president of Human Resources of Volkswagen Group of America, is the guest speaker for the symposium.
According to Melissa Creek, WOW coordinator, the festival will extend from the RUC, through South Patio and into Derryberry.
"This is a great event; it is definitely family-friendly," Creek said. "There will be arts and crafts on the third floor of the RUC. Families can come, and children can make 10 different crafts representing 10 different cultures."
In addition to the arts and crafts, there will also be food, cultural exhibits, an Earth Day celebration, dancing and music.
Also new this year, WOW will host teacher workshops, designed to teach people how to incorporate multicultural activities in the classroom.
"The teacher workshops are even open to parents who want to learn some multicultural activities to do with their kids," Creek said. "It is a neat part of not only talking about different cultures, but practically showing people how they can make it an ongoing theme in the family."
"We have on average four to six thousand people that come and attend WOW," Creek said.
Each year, WOW issues the Mandala Award, awarded to an Upper Cumberland community member who displays international activism and friendship.
According to Creek, this year's recipient is Cella Neapolitan, a local artist.
"I hope our visitors gain a better understanding of different cultures, and that it broadens their perspective of the world," Creek said. "There are things to celebrate in each culture."
The event is free and open to the Tech community and Putnam County community. For more information on the festival, visit tntech.edu/wow.
Get Top Stories Delivered Weekly
More tntechoracle News Articles
Recent tntechoracle News Articles
Discuss This Article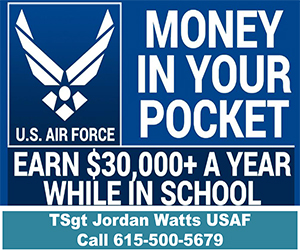 MOST POPULAR TNTECHORACLE
GET TOP STORIES DELIVERED WEEKLY
RECENT TNTECHORACLE CLASSIFIEDS
HOUSING

JOBS

FOR SALE

TUTORS
Tenessee Tech's pre-medicine program prepares undergraduate students for medical schools across the country, where TTU students become leading Chicago ophthalmologists,
LASIK Nashville
doctors and so many other top medical professionals.
TODAY'S PRINT EDITION