Post Classifieds
Cookeville meningitis death sparks concern
By Brandi campbell
On October 25, 2012
With the meningitis outbreak on the rise, students need to be aware of their surroundings to keep from obtaining the infectious disease.
The current outbreak of fungal meningitis is said to be caused by a fungus found in steroid injections produced by the New England Compounding Center in Massachusetts. The injection was a spinal epidural medication given to patients near the spine or back and an ophthalmic drug used with eye surgery, according to the Centers for Disease Control and Prevention. The injections were sent to 74 health facilities in Tennessee, including Cookeville Regional Medical Center and Perimeter Surgery Center.
"Fungal meningitis is something I've never seen through all my years of practice," Dr. Donald Tansil, university physician, said. "It's a complete contamination issue."
As of Oct. 23, there have been two laboratory-confirmed fungal meningitis cases and one in the process of being confirmed at Cookeville Regional Medical Center. One of those three patients died Oct. 19. Another 25 people who had the tainted injections have been seen at CRMC.
Fungal meningitis is not contagious and is very rare. It is the spread of a fungus through the bloodstream to the spinal cord. The most common type is Cryptococcus, which is thought to be acquired by inhaling soil contaminated with bird droppings. The symptoms of fungal meningitis are fever, headache, stiff neck, nausea and vomiting, photophobia or the sensitivity to light, and altered mental state. Fungal meningitis is treated with long courses of antifungal medication administered through an IV.
According to the Tennessee Department of Health, there have been 69 reported cases of meningitis as a result of the epidural steroid injections. Out of those 69 cases, nine deaths have been confirmed. This makes Tennessee the highest in the country in both cases and deaths. More cases of fungal meningitis are expected to appear in the coming days.
Two other types of meningitis affect more people annually.
Bacterial meningitis is usually severe. It can cause permanent damage to the brain, loss of hearing or learning disabilities after recovery.
The most common pathogens or germs that cause bacterial meningitis are Haemophilus influenzae, Streptococcus pneumoniae, group B Streptococcus, Listeria monocytogenes and Neisseria meningitidis.
The symptoms of bacterial meningitis mirror those of fungal meningitis, so it is important to get tested to see which type of meningitis you may have.
According to the CDC, during the years of 2003-2007, 4,100 cases of bacterial meningitis, including 500 deaths, were reported each year.
The third type is viral meningitis. It is usually less severe than the previous two. Most of these cases occur during the summer and fall months, according to the CDC. The most common way viral meningitis is spread is person to person through fecal contamination. The symptoms are the same as the other types of meningitis. There is no treatment for viral meningitis.
There is a vaccination for some types of meningitis. The vaccine is given in two doses.
It is usually given to college freshmen and the military because of the close contact.
"It has been recommended for college students that live in dorms to get the vaccination for bacterial meningitis," Tansil said. "We give those vaccines out at Health Services for those students."
To prevent catching meningitis, make sure to wash your hands, especially after using the toilet, coughing or sneezing. Avoid kissing and sharing drinks, lip gloss, eating utensils and other items with those who are sick.
"If we are suspicious of meningitis, whatever the kind, we will refer them to the emergency room because to make the right diagnosis, they have to have a spinal tap, which we don't do here," Tansil said. "If someone thinks they have meningitis, they need to be checked out."
 
Get Top Stories Delivered Weekly
More tntechoracle News Articles
Recent tntechoracle News Articles
Discuss This Article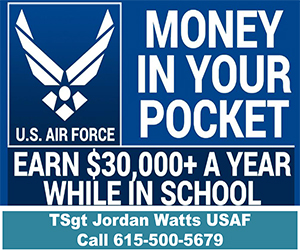 MOST POPULAR TNTECHORACLE
GET TOP STORIES DELIVERED WEEKLY
RECENT TNTECHORACLE CLASSIFIEDS
HOUSING

JOBS

FOR SALE

TUTORS
Tenessee Tech's pre-medicine program prepares undergraduate students for medical schools across the country, where TTU students become leading Chicago ophthalmologists,
LASIK Nashville
doctors and so many other top medical professionals.
TODAY'S PRINT EDITION