Post Classifieds
BASES LOADED: "Lin-Sanity"
How unknown, undrafted Jeremy Lin made his meteoric rise to stardom, and whether or not he can stay
By Andy Rutherford
On February 16, 2012
Jeremy Lin reads the defense in a game last week. Lin's out-of-nowhere success has propelled him into the national spotlight. Reuters
Only those who have been living under a rock for the past two weeks have not heard of the current NBA phenomenon that is Jeremy Lin.
The second-year guard out of Harvard has caught fire, leading the New York Knicks to their first seven game win streak of the season and a .500 record.
Lin has 171 points, including 38 against the Lakers, in those seven games and 64 assists. Those numbers are without Carmelo Anthony in the lineup, and only having Amare Stoudemire for the last two.
Lin's story is quite the underdog story.
He led his high school team, Palo Alto High School, to a California Division II state championship and was named first-team All-State and Northern California Division II Player of the Year, yet he wasn't offered a single NCAA Division I scholarship.
Pac-10 schools Cal, UCLA, and Stanford wanted him to walk on while Ivy League schools Harvard and Brown wanted him, but couldn't offer him an athletic scholarship under Ivy League rules.
Lin chose to attend Harvard.
While at Harvard, Lin was named to the All-Ivy League second team as only a sophomore and the All-Ivy League first team his junior and senior years. He finished his career there as the only Ivy League in history to have 1,450+ points, 450+ rebounds, 400+ assists and 200+ steals.
He also drew some national attention when he scored 30 points and pulled down nine boards on the road at nationally ranked UConn.
After graduation, Lin worked out with eight different NBA teams, but he went undrafted on draft day.
After playing in the Summer League with the Dallas Mavericks, Lin signed a two-year deal with his hometown Golden State Warriors only to be cut after the first year. He was picked up by the Houston Rockets and played two preseason games but was cut for cap reasons before the start of this season.
He was picked up by the Knicks, sent down to the D-League, recalled because of injuries and almost cut because of cap issues. With so much moving around, Lin was sleeping on his brother's couch because he didn't have a place of his own.
On Feb. 4, Lin was given a chance by coach Mike D'Antoni and seven games later, "Lin-sanity" is upon us.
"Lin-sanity", "Super Lin-tendo" and "Mr. Lin-credible" are just a sampling of the nicknames being used to describe this out-of-nowhere sensation.
After only six NBA starts, he has been added to the Haier Shooting Stars competition and will "assist" his teammate Iman Shumpert during the Sprite Slam Dunk Contest during All-Star Weekend on Feb. 25.
So is Jeremy Lin and "Lin-sanity" just a flash in the pan or here to stay?
Obviously, Lin can't be expected to drop 20 points every night for the rest of his career, especially when Anthony rejoins the team; but you can expect the assists to go up more and more.
He averaged 8.5 assists without Anthony or Stoudemire, and had 11 and 13 upon Stoudemire's return.
The reason Lin will not just fade away is simple: he's a true point guard.
In today's NBA, the elite point guards are Derrick Rose, Chris Paul and Deron Williams. All great athletes and scorers, but not true point guards.
Lin looks for the open guy before shooting.
Case in point, when the Knicks hosted the Sacramento Kings in Stoudemire's second game back, Lin had 13 assists compared to only six shot attempts.
A combination of Lin's pass-first mentality and his proven ability to score when necessary is the reason that Lin-sanity will be upon us for a very long time.
Get Top Stories Delivered Weekly
Recent tntechoracle News Articles
Discuss This Article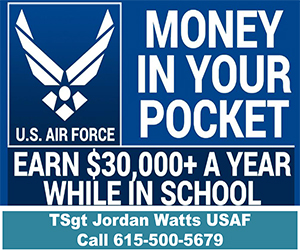 MOST POPULAR TNTECHORACLE
GET TOP STORIES DELIVERED WEEKLY
RECENT TNTECHORACLE CLASSIFIEDS
HOUSING

JOBS

FOR SALE

TUTORS
Tenessee Tech's pre-medicine program prepares undergraduate students for medical schools across the country, where TTU students become leading Chicago ophthalmologists,
LASIK Nashville
doctors and so many other top medical professionals.
TODAY'S PRINT EDITION