Post Classifieds
Talks of hammock club circulating among students on campus
By Kimberly Manning
On March 21, 2014
Seniors Lee Henry and Adam Liberatore each threw shutouts against EIU. Sports Information
Have a love for the outdoors, napping and suspending yourself several feet off the ground?
You're not alone.
As it turns out, there is a group of students who all have a similar goal: to start a hammocking group on Tech's campus.
Student Joey Blankenship said the day is considered a good one if the sun is directly above, the air has a slight chill and you're hanging from a tree limb.
"I had an interest in starting a hammock club at my old college," Blankenship said. "There were about 15 of us who would hammock together on a daily basis.
"But, here I haven't quite found my sweet spot yet."
Students like Blankenship are scattered on campus, but are looking for others to join them in an effort to unify a hammocking club.
Student Charlie Jordan also has interest in the club.
"I would so join in on all the action," Jordan said. "'Action' defined as laying in my hammock."
Jordan said he thinks there were would be a great deal of interest in the club.
"I do think others would join the group because why not?" Jordan said.
Blankenships' wife Brontà is an avid hammocker, as well.
"People would join a club like that," Brontà Blankenship said. "You can see tons of hammocks around campus on a pretty day."
"Hammocking is the greatest," Joey Blankenship said. "It's rivaled only by hammocking with cool people."
Student Kevin Kimbro said he hadn't put much thought into starting a club, but believes joining one would be fun. He said that "if there were an abundance of trees in a cluster," students would have all they need to start one up.
When it comes to activities for this prospective group, students had numerous attention-grabbing ideas.
"Group activities would consist of making four tier hammock relaxation stations," Jordan said, "and doing crazy things like filling a tree full of hammockers."
"We would play Frisbee golf, ultimate Frisbee, hiking, backpacking, rock climbing," Joey Blankenship said. "Anything with nature and plastic discs, basically."
Kimbro suggested going to Bee Rock or other nature sites.
Few strict rules have been mentioned in the planning stages of the organization.
"A love for the outdoors, some spare time and a willingness to explore," Joey Blankenship said.
"You must have a love for hammocking and relaxing," Brontà Blankenship said.
Jordan said an obvious obligation would be the basic equipment.
"A hammock," Jordan said. "I like my eno. They are incredibly well-made hammocks. I recommend the double nest so that there is always room for one more!"
If you're interested in joining this prospective club, the odds are in your favor. Joey Blankenship is still on the lookout for members.
"Given enough demand, I will [start the club]," Joey Blankenship said.
To get involved, check out Facebook where a Tech group is forming to create hammock interest on campus.
Get Top Stories Delivered Weekly
More tntechoracle News Articles
Recent tntechoracle News Articles
Discuss This Article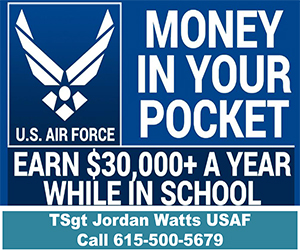 MOST POPULAR TNTECHORACLE
GET TOP STORIES DELIVERED WEEKLY
RECENT TNTECHORACLE CLASSIFIEDS
HOUSING

JOBS

FOR SALE

TUTORS
Tenessee Tech's pre-medicine program prepares undergraduate students for medical schools across the country, where TTU students become leading Chicago ophthalmologists,
LASIK Nashville
doctors and so many other top medical professionals.
TODAY'S PRINT EDITION