Post Classifieds
WTTU hatches new DJs
By Sarah Dingwall
On March 21, 2014
Seniors Lee Henry and Adam Liberatore each threw shutouts against EIU. Sports Information
WTTU-88.5 The Nest hosted its second biannual Hatching Ceremony during dead hour on Tuesday, Mar. 18, ushering in 13 newly trained DJs.
The new DJs went through a six-week training program. Four weeks taught them all about the radio station and the "do's and don'ts" of being a radio DJ. The final two were all about watching or "shadowing" other veteran DJs.
Drake
Fenlon
, the stations program manager, prepped the stage for this newest installment of DJs.
"The training program was informative and really brief," said Jordan Pace, a new "hatchling" DJ. "Drake made it really fun."
"I am extremely excited, so excited," said Fenlon about this second installation. "I'm stoked about adding more DJ's."
The presentation of certificates included swearing in on an LP of Jimmy Hendrix.
Fenlon gave some last minute advice to the new DJs to make sure they are signing in and not eating or drinking in the booth.
Fenlon said The Nest is home to between 50 and 60 DJs now. Most are currently inactive, but many still are working for the station. Phil Davis hosts the "Phil Davis Show" on WTTU-88.5 The Nest Thursdays at 5 p.m. and has been apart of the group since 2010.
"The Hatching ceremony is some brain-child of Drake's," Davis said.
The Hatching Ceremony came about with the new release of WTTU's latest marketing campaign in the fall of 2013, and accompanied the rebranding of the radio station when it became WTTU-88.5 The Nest.
WTTU-88.5 The Nest staff host DJ classes every semester.
Get Top Stories Delivered Weekly
More tntechoracle News Articles
Recent tntechoracle News Articles
Discuss This Article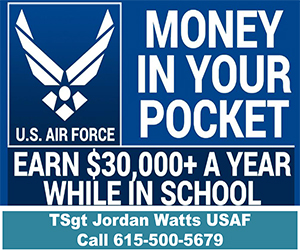 MOST POPULAR TNTECHORACLE
GET TOP STORIES DELIVERED WEEKLY
RECENT TNTECHORACLE CLASSIFIEDS
HOUSING

JOBS

FOR SALE

TUTORS
Tenessee Tech's pre-medicine program prepares undergraduate students for medical schools across the country, where TTU students become leading Chicago ophthalmologists,
LASIK Nashville
doctors and so many other top medical professionals.
TODAY'S PRINT EDITION