Post Classifieds
The Housewives of Beverly Hills return
By Jake Threet
On November 15, 2012
The girls of Beverly Hils are back for a news season of glitiz, glam, and catfighting Mondays at 8 p.m. CST on Bravo. E! Online
The Real Housewives of Beverly Hills" has returned to Bravo, and the drama is on high volume.
Season three opens with all original housewives returning, minus Camille, and the cast is joined by last season's "friend of the housewives" and breakout star Brandi.
Lisa, my favorite original, is as charming and funny as ever. I am jealous of her new downsized house; and I use the term "downsized" lightly. Her closet is bigger than my apartment and I want to be the houseboy for Mrs. Vanderpump. Lisa is above the drama, but she knows when to stand her ground.
So far, we learn Lisa and Adrienne are still holding grudges. Lisa, rightfully so, is still pissed at Adrienne for fabricating that she sold stories to the press trying to slander Adrienne's name. To reiterate what Lisa told Adrienne at last year's reunion, why the hell would Lisa need to be to paid for a story? The woman has money coming out of the wazoo and hardly needs a paycheck from Radar Online.
Adrienne is sad because she knows her marriage is falling apart and her age is beginning to show. Adrienne is the one who owes an apology because she is the one who started this nonsense.
Taylor returns this year after an extremely rough year in her life. She lost her husband Russell to a suicide, revealed the terrible abuse he put her through and inherited his tremendous amount of debt. I honestly do not know why she was brought back to this show. Maybe it was because she needed the money to pay off the debt she was left with or to watch her fall apart by the seams even more? She is clearly struggling with her life and consumes alcohol by the gallon. I mean if you cannot make it to a four-year-old's birthday party without being drunk, there may be a problem. Taylor is a hot mess and needs to call it quits and regroup for the sake of her beautiful daughter.
The sister duo of Kim and Kyle return, and their feud is still present. Kim, who also should not be back on this show, is one month out of rehab in the beginning of the season. After saying anxiety and stress led to her addictions with alcohol, it seems perfectly logical to jump right back in front of the cameras to be around a bunch of cattiness and bitch fighting. Again, I think the money thing plays a card here. On a positive note, Kim does look good and healthy. She is supporting all the ladies, so far, with all of their events and parties, and she is actually involved and engaging. It is a nice change to see.
Kyle wants to help everyone this season. She wants to help her sister continue get back on the right path and give her advice. It's sweet and a good gesture, but I think this may be a journey Kim needs to go on herself. Kyle wants to bring peace between Adrienne and Lisa, but it is not worth the fight.
Newbie to the cast, Yolanda, can no doubt hold her own with these women. She has been quiet so far, but previews show she is going to be just fine. She's a very strong woman, and her attitude seems genuine and sweet.
Finally, we have resident hottie and self-proclaimed "gangster housewife of Beverly Hills" Brandi joining the official cast this year. After being a friend to the housewives last year, it was a no-brainer she was to be added to full time cast member.
Personally, she is my favorite. Love her or hate her, you have to respect her honesty. She says what is on her mind and does not give a damn what anyone thinks about it. It has caused her problems in the past, and it will this season as well. She does apologize when she is in the wrong and admits her wrongdoings, which is admirable and a rarity with the housewives. I love her because she is the most real of the cast and speaks her mind. She says what the rest of us want to say or are thinking. She is truly hilarious at times, and I live for her potty mouth and explicit banter.
"The Real Housewives of Beverly Hills" airs Mondays at 8 p.m. CST on Bravo.
 
Get Top Stories Delivered Weekly
More tntechoracle News Articles
Recent tntechoracle News Articles
Discuss This Article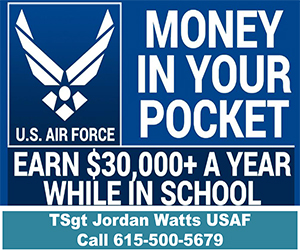 MOST POPULAR TNTECHORACLE
GET TOP STORIES DELIVERED WEEKLY
RECENT TNTECHORACLE CLASSIFIEDS
HOUSING

JOBS

FOR SALE

TUTORS
Tenessee Tech's pre-medicine program prepares undergraduate students for medical schools across the country, where TTU students become leading Chicago ophthalmologists,
LASIK Nashville
doctors and so many other top medical professionals.
TODAY'S PRINT EDITION