Post Classifieds
'The Client List' rubs audiences the right way
By Jake Threet
On April 4, 2013
Jennifer Love Hewitt massages a patron at "The Rub", where extras are only offered to those on "The Cient List.". Photo Courtesy of OMG Yahoo
Beginning its second season on Lifetime, "The Client List" is proving to be a winner for audiences. Jennifer Love Hewitt stars in the lead role as a woman done wrong by her husband and being driven to get a job as a masseuse that offers good benefits if she's willing to go the extra mile.
Coming back in the second season, we learn that Riley's husband Kyle has been illegally dealing with dealers in Mexico, but there is more to that story that has not been revealed yet. Riley and Kyle's brother, Evan, are closer than ever but just cannot seem to find the right moment to express themselves fully to one another.
This season we find that Riley is taking over for Georgia at the "The Rub" and is eventually going to buy it from her. I do not believe for a second that this is going to happen without a few hiccups along the way.
We also learn this season that all of the ladies that worked their last year are gone, with the exception of Selena. She is still there and is still who fans love to hate, but she does have a good side to her. I'm guessing show runners felt like they were not a good fit for the cast, but I personally did not see a reason to change.
So out with the old and in with the new faces and so far, most are irrelevant and have added nothing new to the show. The main new character seems to be the character Nikki. She is a new masseur at "The Rub," but she has a very sketch history.
Now for those who know their reality TV, Nikki is played by Laura Leigh from Bravo's latest hit show "Vanderpump Rules." Quite honestly when she left the Lisa Vanderpump spinoff and said she was off to work with Jennifer Aniston, I laughed and figured she was joining the "Bad Girls Club."
I was wrong, and not only will she have a supporting role in an upcoming Jennifer Aniston movie, she is a main cast member on this show. She's not haft bad either. Maybe I can fill her spot at Sur. Call me Lisa!
Back on track though, the second season is not as good as the first, so far, but I will continue to watch each week because I really like overall storyline. Okay, mainly for Jennifer Love Hewitt, but I digress.
Ratings have slipped a tad from the first season, but are still holding their own and a likely renewal is probable. As the season continues, I suspect the plot will thicken and become really juicy. I just hope it comes sooner rather than later.
"The Client List" airs Sunday nights on Lifetime at 10/9 central.
 
Get Top Stories Delivered Weekly
More tntechoracle News Articles
Recent tntechoracle News Articles
Discuss This Article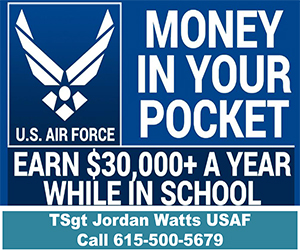 MOST POPULAR TNTECHORACLE
GET TOP STORIES DELIVERED WEEKLY
RECENT TNTECHORACLE CLASSIFIEDS
HOUSING

JOBS

FOR SALE

TUTORS
Tenessee Tech's pre-medicine program prepares undergraduate students for medical schools across the country, where TTU students become leading Chicago ophthalmologists,
LASIK Nashville
doctors and so many other top medical professionals.
TODAY'S PRINT EDITION