Post Classifieds
I wear your grandad's clothes, I look incredible: Going thrifty
By Jacqueline Atkielski
On February 13, 2014
The popular song "Thrift Shop" includes phrases such as "popping tags" and "wearing your grandpa's velour suit." Although students at Tech do not usually wear velour suits, they are shopping to get the most bang for their buck. It is a way of life for the typical Tech student to be thrifty.
The New York Times recently published an article claiming that young adults are no longer shopping at fashion chains like Abercrombie and Fitch and American Eagle, causing a profit loss of six percent or higher. The article cites that technology, online shopping and "fast fashion" are reasons for the sales slump, but some disagree. Elias Marrero, Jr., of Trendy Trades, said that the price is just too high for those with limited funds.
"I've always wanted to wear a fur coat, but I can't find the opportunity to do so," Marrero, Jr. said. "Fashion that is easy on the eyes and the wallet is difficult to come by here in town. Most of our clientele are young adults and teens and they are regulars here."
Some students like to be thrifty about their fashion choices, while some like to save on technology. Jared McKelvey, of Bargain Hunt, knows all the best places in town to save, including his place of employment.
"We have a wide range of customers, a majority being Tech students. I recognize the college students, after working here for three years," McKelvey said. "They always seem surprised by our discount system and love the savings they can get."
The Bargain Hunt discount system is based on the date the product is placed on sale. After one month, the price decreases by 10 percent and, after every 10 days, the price drops by another 10 percent.
"You can purchase something priced at $9.99 at 90% off for .99 cents. It's a great system," McKelvey said.
McKelvey, said the store has a serious discount to offer to the Upper Cumberland. "They usually have a lot of overstock or returns from other retail stores and we price them competitively, up to 20 to 30 percent off the typical market price. We don't have a student discount, though."
McKelvey said that the lines "spending fifty dollars for a tee shirt", from the song "Thrift Shop", struck a chord with him. "I can't afford to spend that much on something so frivolous. I have better things to spend my paycheck on."
Get Top Stories Delivered Weekly
More tntechoracle News Articles
Recent tntechoracle News Articles
Discuss This Article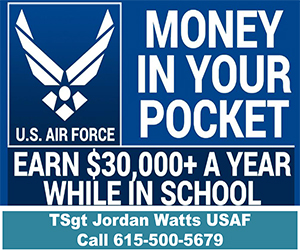 MOST POPULAR TNTECHORACLE
GET TOP STORIES DELIVERED WEEKLY
RECENT TNTECHORACLE CLASSIFIEDS
HOUSING

JOBS

FOR SALE

TUTORS
Tenessee Tech's pre-medicine program prepares undergraduate students for medical schools across the country, where TTU students become leading Chicago ophthalmologists,
LASIK Nashville
doctors and so many other top medical professionals.
TODAY'S PRINT EDITION