Post Classifieds
Yankee Tavern Review
By Adam Webb
On February 13, 2014
Tree Trunks, a small yellow elephant, mysteriously seemed to die in the first season, an example of the willingness of show staff to take on darker issues. Frederator Studios and Cartoon Network
The Backdoor Playhouse's latest production is full of everything from conspiracies to laughs to splendid dramatic acting. "Yankee Tavern" is the story of two young lovers in a New York City bar five years after 9/11. The tavern is patroned by only a loud, boisterous conspiracy nutjob and a silent, mysterious man.
The entire cast gives an impressive performance throughout the two acts of the Steven Dietz's original work. Theater professor and artistic director of the Backdoor Playhouse, Mark H. Creter is electric as the confident theorist Ray. Creter's turn is reminiscent of the late Phillip Seymour Hoffman as he's spouting off lines like "some guy heard my theory about Yoko Ono and The Bay of Pigs and he wants me to start a blob!" Creter's Ray can also add to the drama himself, getting right in the face of Adam, played by Joshua W. Rapp, who also directed the play.
While the first act may belong to Creter, the second act really allows his costars talent to shine. Andrew N. Davis plays the mysterious Palmer who has more secrets than anyone has a right to, and in the second half you get a full view of the all-seeing, all-knowing bar fly.
"The only way to get rid of a ghost... is to become one," Palmer says, sending shivers down your spine. Not to be out done, Caroline Brown delivers a terrified performance as she fears what is happening to her world around her, trembling and shedding tears of fear in one scene then confidently telling fiancé Adam what she has learned in the next.
Rapp's Adam holds his own, as well. In the beginning, Adam is a young man that just wants to marry the girl of his dreams. But, by the end, Adam appears to know more than he let on originally.
The production has humor and wit to last, but what makes it stand out is the way it makes you think. By the end of the play you'll be asking yourself "was it a conspiracy? Or merely a coincidence?"
Get Top Stories Delivered Weekly
More tntechoracle News Articles
Recent tntechoracle News Articles
Discuss This Article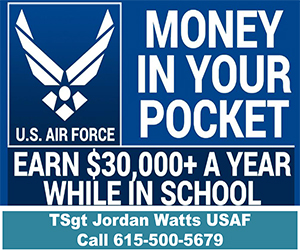 MOST POPULAR TNTECHORACLE
GET TOP STORIES DELIVERED WEEKLY
RECENT TNTECHORACLE CLASSIFIEDS
HOUSING

JOBS

FOR SALE

TUTORS
Tenessee Tech's pre-medicine program prepares undergraduate students for medical schools across the country, where TTU students become leading Chicago ophthalmologists,
LASIK Nashville
doctors and so many other top medical professionals.
TODAY'S PRINT EDITION