Post Classifieds
Students choose Eric Church for fall concert
Award-winning country music star slated to perform at fall SOLO concert in the Hoop
By Jodi Lawrence
On April 20, 2012
Angela Bell receives her ticket from Katie Williams, Greek Life and Programming coordinator, and Katya Hoffman, from left, for next week's SOLO concert. Gym Class Heroes will perform at the Hoop April 24. Jessica Reeves
Eric Church is the April 12 SOLO vote winner for Tech's fall 2012 concert.
Church, the 2011 Academy of Country Music top new solo artist, won the vote by more than 50 percent over second place Josh Turner and other opponents Dierks Bentley, Chris Young, Billy Currington and Sarah Evans, according to SGA President Lee Gatts.
"We have been waiting a long time for the country genre to come around," Gatts said earlier this year.
Students can look forward to hearing hits like "Sinners Like Me" and "Drink in My Hand" live at the Hooper Eblen Center.
"I voted for Eric Church," Stephen Porter, junior environmental agriscience major, said. "He is one of my favorite country artists, and I can't wait to see him."
Will Scheibe, junior electrical engineering major, said, "I am very excited Eric Church won. He will be a good show."
However, not all students are satisfied with the choice of their peers, with some students refusing to attend any SOLO concert.
"I think Dierks Bentley should have won," Zach Miller, sophomore turfgrass management major, said. "Eric Church is over-played, and I have already seen him multiple times in concert. I wanted to see someone new."
Nathan Brown, senior electrical engineering major, said, "I think the SOLO Bill is silly, so I don't care about Eric Church. I won't go."
Students can pick up tickets next semester, a few weeks before the concert.
In 2010, students passed a referendum to increase full-time student fees by $20. Named the Student Organization Life Opportunity, or SOLO Fund, it was created by SGA to provide much need monies to student organizations on campus and to increase student retention by funding relevant activities. The Fund is also used to sponsor one major event on campus each semester, with the first being the Goo Goo Dolls and Vertical Horizon concert held last year.
The SOLO Fund is divided into a Super Fund, which funds the Concert Series, and a General Fund. The General Fund is a smaller percentage of money collected from the $20 student fees that is allocated to student organizations to fund free events for students.
All University registered organizations can apply for funding of a planned event. There are three available application sessions during the semester, allowing organizations to receive up to $2,000 ($1,000 per event) per semester.
Organizations are required to fill out an application with details regarding what their event consists of and how they plan to execute the event with SOLO funds. SGA then chooses which organizations will receive funding.
For more information about the SOLO organization funding, or to get an application, visit www.tntech.edu/sga/forms.
Get Top Stories Delivered Weekly
More tntechoracle News Articles
Recent tntechoracle News Articles
Discuss This Article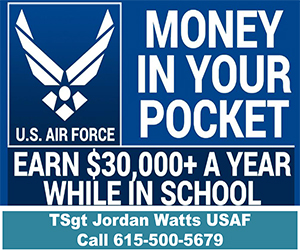 MOST POPULAR TNTECHORACLE
GET TOP STORIES DELIVERED WEEKLY
RECENT TNTECHORACLE CLASSIFIEDS
HOUSING

JOBS

FOR SALE

TUTORS
Tenessee Tech's pre-medicine program prepares undergraduate students for medical schools across the country, where TTU students become leading Chicago ophthalmologists,
LASIK Nashville
doctors and so many other top medical professionals.
TODAY'S PRINT EDITION