Post Classifieds
Students react to election results
By Justin Duke
On November 8, 2012
SAE conducts a ground breaking ceremony for their new house, which is the result of an agreement with CRMC. Jodi Lawrence
Tech students had mixed feelings as President Barack Obama was re-elected Tuesday.
"I'm not really sure how the next four years will turn out," Kara Young, senior, said. "I'm interested to see how the health care bill is going to pan out. I hope to see improvement in the economy and to see the unemployment rate decrease. I also hope that there is a little more cooperation between political parties. However, that just doesn't seem likely. Hopefully there will be more focus on what this country needs as opposed to politicians working for their own selfish ambitions."
Sophomore Morgan Britt said, "I think the economy will be in a bit of bad shape, but it will get better. It's going to take more than eight years to fix this country. But on the other hand, I feel like we're working and will continue working progressively for more equal rights, no matter your race or your sexual orientation."
After the first polls closed, results started coming in to show how people were voting. Governor Mitt Romney started off with a pretty sizable lead over President Obama in the popular vote and took an early lead in the electoral votes by capturing Indiana, Kentucky and Georgia. At the time President Obama only had Vermont.
The race began tightening up once more numbers from each state began to come in. After most of the eastern and southern states' results came in, Romney and Obama were tied in the electoral votes 153-153, with Romney leading in the popular vote. Romney won Tennessee with 1,450,595 votes. President Obama received 951,406 votes. Romney also won every county in Tennessee except for Davidson, Haywood, Shelby and Hardeman.
Members of the media were expecting Romney to possibly take Michigan and Pennsylvania, which before had not been much of a factor for Romney. But once the voting results began to come in, there was hope for the Romney campaign.
However, Obama won both Michigan and Pennsylvania, putting Romney in a tough spot. With states such as California, Washington and Oregon going to Obama, Romney needed to win Ohio, Virginia, Colorado, North Carolina and Florida to have a shot at winning the presidency.
Romney won North Carolina but lost Colorado and Virginia, which sealed his fate. Romney led in Virginia for most of the night, but toward the end votes for Obama increased and put Obama ahead to give him the win in Virginia.
"I think that our economy will be much worse than it already is," Ryan Young, senior, said. "ObamaCare will pretty much ruin the medical field. Doctors will not be able to make enough money to cover their overhead, which will mean fewer jobs for the future nursing students and possibly the first time you see hospital cut jobs. Gas prices will be so high that the national class hierarchy will change drastically, meaning that the current middle class will drop into the poor class. The national deficit will increase and the unemployment rate will sky rocket. If it gets bad enough quick enough I say you could see a revolt within the country, especially if he tries to enforce gun control."
Florida and Ohio were the tightest races of the night. There were many lead changes in Florida between Romney and Obama, and in Ohio Obama pulled ahead of Romney early receiving 55 percent of the votes to Romney's 44 percent. Romney closed the gap in Ohio as the night went on, and came within 2 percent of Obama. But Obama won Ohio 2,672,302 votes to Romney's 2,571,539.
President Obama won both the electoral votes and the popular votes. As of Wednesday, Obama obtained 303 electoral votes and 60,095,941 popular votes. Romney received 206 electoral votes and 57,412,482 popular votes. Obama is expected to take Florida, which hasn't announced a winner. A win in Florida will give him a total of 332 electoral votes.
"The debt will have increased to even higher levels, the unemployment levels will have decreased due to government jobs, which is only a temporary fix and will ultimately exacerbate the problem," Robert Griffin, senior, said. "Our status with foreign countries will have continued to deteriorate, weakening our world and economic strength."
 
Get Top Stories Delivered Weekly
More tntechoracle News Articles
Recent tntechoracle News Articles
Discuss This Article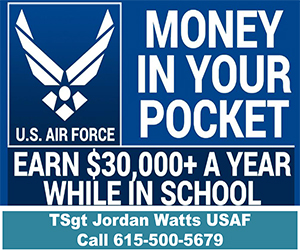 MOST POPULAR TNTECHORACLE
GET TOP STORIES DELIVERED WEEKLY
RECENT TNTECHORACLE CLASSIFIEDS
HOUSING

JOBS

FOR SALE

TUTORS
Tenessee Tech's pre-medicine program prepares undergraduate students for medical schools across the country, where TTU students become leading Chicago ophthalmologists,
LASIK Nashville
doctors and so many other top medical professionals.
TODAY'S PRINT EDITION