Post Classifieds
Three new restaurants coming to campus
By Drake Fenlon & Caitlin Jared
On February 13, 2014
On campus dining options in the RUC will be expanding in the coming months with the addition of three new restaurants.
In the first SGA Town Hall meeting of the semester, Director of Dining Services for Chartwells Sam Holm made an announcement confirming the arrival of several new dining options at the University, including Chick-Fil-A, Which Wich and a Chartwells run Mexican style restaurant.
The first of the new restaurants that will be seen is the Which Wich. This up-and-coming sandwich shop is one in which patrons write down which sandwich they would like and what they want on the sandwich on a paper bag and then the Which Wich workers put the customer's sandwich in that bag.
Which Wich will be located in the recently vacated space where the Mini Market was located on the ground floor of the RUC. Holm said that before construction on the remodel project can begin, walls must be knocked down in order to meet the design needs for Which Wich. Demolition is expected to begin soon so that the restaurant will be up and running by the end of the semester.
Holm said the University is working rapidly on the Which Wich project so the restaurant will be functioning by summer. Work will then begin on the Chick-fil-A that is to replace the current Golden Eagle Snack Shack and Wing It in the Swoops Food Court.
The construction standards of Chick-fil-A are much more invasive than that of the Which Wich remodel. Holm said that certain large Chick-fil-A deep fryers and ventilation hoods will have to be installed in order for the kitchen to be built properly up to code.
The remodel process for the Chick-fil-A will be so intense that Chartwells is considering shutting down all of Swoops until the Chick-fil-A is finished and ready for customers.
Close to one year ago, the Chartwells team held a student survey to see what restaurants students would like to see on campus.
"Guidelines for the restaurants we want on campus are easy- hip and fun," Holm said. "Chick-fil-A came back number one on the survey."
Another restaurant highly requested from students was a Mexican restaurant. Chartwells heard the requests and, within a short time, a Mexican restaurant will take the place of Mondo Subs in Swoops.
Described as a "fresh Mex" restaurant by Holm, the Mexican restaurant will not be a nationally recognized name, but a smaller named place.
The name is currently being worked on, but Holm said that the establishment will be similar to a Chiptole or a Qdoba, with freshly made meats and salsas.
The "fresh Mex" restaurant is expected to be up and running around the same time as the Chick-fil-A this fall.
"I'm personally glad Mondos is going away because they are a little overpriced to compete at Tech," junior Andrew Jeffries said, "As far as Chick-fil-a coming, I think that will be good, but I think it will take business away from other places because of the brand recognition."
According to Holm, Chick-fil-A will offer a smaller menu, but people will still be able to order the basics. Chartwells is still waiting to know if they will be able to serve Chick-fil-A breakfast. There is, however, some controversy concerning Backyard Burger's ability to sell chicken. Chick-fil-a is looking to protect its brand name.
"That's not fair. Chick-fil-A will get enough business without hurting them," student Minda Richardson said. "They serve different products. Buying a sandwich from Chick-fil-A isn't the same as buying a sandwich from Backyard Burger. Backyard has that Hawaiian chicken sandwich and Chick-fil-A doesn't have that."
Get Top Stories Delivered Weekly
More tntechoracle News Articles
Recent tntechoracle News Articles
Discuss This Article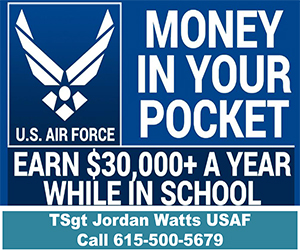 MOST POPULAR TNTECHORACLE
GET TOP STORIES DELIVERED WEEKLY
RECENT TNTECHORACLE CLASSIFIEDS
HOUSING

JOBS

FOR SALE

TUTORS
Tenessee Tech's pre-medicine program prepares undergraduate students for medical schools across the country, where TTU students become leading Chicago ophthalmologists,
LASIK Nashville
doctors and so many other top medical professionals.
TODAY'S PRINT EDITION