Post Classifieds
Men handle Austin Peay, look to next on schedule
By Jamal Ferguson
On January 31, 2013
Tennessee Tech men's basketball team handely defeated Austin Peay Saturday night in the Eblen Center.
Senior Forward Terrell Barnes commented on the feeling headed into the game saying, " With this being my senior season I've learned to have that next game mentality when it comes to those quick turn arounds." He added that Coach Payne had emphasized that they couldn't hold on to the loss a few nights earlier against Murray and let it be a factor in the game at hand. This seemed to really set in and it was apparent from the start. It was easy to see that the energy of the team was at a high level and they were ready from the opening tip off.
Though Tech was a meek 1-6 in conference play headed into the game with Austin Peay with recent losses to Southeast Missouri State, SIU-Edwardsville, and Murray State but the Golden Eagles would get it together and handle the Gov 70-52.
Barnes felt that it was a good win for the team saying that, "Any win in OVC play is a big win for us especially with the league being so strong this year." Which is especially true on East of the OVC with such a cluster of teams seemingly competing for the regular season conference title. Barnes added, "This one definitely this one had a little different feel to it being that we came out and dominated for the tip plus it being against Austin Peay made it that much better."
The Golden Eagles seemed to be fuel by the loss to the Racers, in which they lost the clash in the paint, and the feeling of the rivalry and dominated the glass. They would finish the night leading the battle for rebounds 36 to 27. With Tech grabbing so many rebounds that in turn lead to them getting more second chance points. Another aspect Tech bench also outscored Austin Peay's 15 to 9 lead by Barnes . At times he is used to provide a spark of the bench and other times starts. Tech's big menTech were also a force in the half court putting up more points in the paint than Austin Peay.
The team has some underclassmen that are really contributing. "I think are young guys are really beginning to get it, Anthony has really stepped up these past two games and so has Diressa," said Barnes. Anthony Morse, a freshman seeing substantial minutes and even making his second OVC start of his young career, scored a career-high 10 points in the win over Austin Peay.
The Golden Eagle men's team will travel to Nashville for their next two games. Barnes noted that the team felt last time they played TSU they "let one get away against TSU." The Bruins of Belmont, newcomers to the OVC, thrashed the Golden Eagles by nearly a 30 piece. Barnes chomped at the thought of that game saying, "we definitely owe Belmont, I'm ready to go I wish we could roll them out and play right now."
The Golden Eagles did travel to Tennessee State to play however, final scores were not available at the time of publication.
Belmont is next on the schedule. The Golden Eagles will be taking on the Bruins on Saturday at 7 pm at Belmont as part of a double header with the women's team who play at 5 p.m. CST.
 
Get Top Stories Delivered Weekly
More tntechoracle News Articles
Recent tntechoracle News Articles
Discuss This Article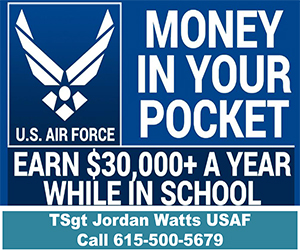 MOST POPULAR TNTECHORACLE
GET TOP STORIES DELIVERED WEEKLY
RECENT TNTECHORACLE CLASSIFIEDS
HOUSING

JOBS

FOR SALE

TUTORS
Tenessee Tech's pre-medicine program prepares undergraduate students for medical schools across the country, where TTU students become leading Chicago ophthalmologists,
LASIK Nashville
doctors and so many other top medical professionals.
TODAY'S PRINT EDITION