Post Classifieds
Smart Ways To Save For Your Future
By NAPS (North American Precis Syndicate)
on July 31, 2019
(NAPSI)—According to the Federal Reserve Board, four in 10 adults, if faced with an unexpected expense of $400, would either not be able to cover it or would cover it by selling something or borrowing money. If you're ever among them, or the 78 percent of American workers who live paycheck to paycheck, you can assist yourself. It can pay to consider these six hints that can help you save:
1. Know your numbers. Keep track of where you spend your money. Include groceries, gas, utilities, entertainment, housing and debts.
2. Make tough choices. Distinguish between things you need (utilities, debt payments and rent) and things you want (vacations, eating out). Subtract what you have to spend on "needs" from your monthly income to determine what you have left for "wants."
3. Pay yourself first. Have a percentage of each paycheck routed automatically into your savings account. Saving needs to be a priority—consider it a "need."
4. Expect the unexpected. No matter how well you budget, life may throw the unexpected at you.
5. Keep your stuff in shape. Similarly, keeping major appliances and vehicles in good condition can help you save.
6. Comparison shop for financial products. Take the time to compare insurance policies, bank accounts, savings accounts and credit cards. For instance, there's the new Unlimited Cash Back Bank Account, by Green Dot Bank. With this account, Green Dot pays its cardholders a 3 percent cash back bonus when they make online or in-app purchases. People spend lots of money online at various websites and buy through apps, such as ride sharing, video streaming and meal delivery services, so getting an additional 3 percent cash back on the things you normally buy anyhow can add up.
What's more, you can earn 3 percent annual interest when you save your money in the Green Dot Bank High-Yield Savings Account (Member FDIC)—higher than what many banks pay in annual interest. It's free with the app and the interest earned is automatically added to your annual Cash Back Bonus amount.
To sign up for the account or learn more about it, go to the Green Dot app or www.GreenDot.com.
<![if !vml]>
<![endif]> "With a new Unlimited Cash Back Bank Account by Green Dot, you get a 3 percent cash back bonus on what you buy online and with apps. http://bit.ly/3320n2F"
<![if !supportLineBreakNewLine]>
<![endif]>
On the Net:North American Precis Syndicate, Inc.(NAPSI)
Get Top Stories Delivered Weekly
Recent tntechoracle News Articles
SGA run-off election today
SGA Presidential Candidates, Kyle Bieze and Emily McDonald, will face-off in a run-off election on Thursday, April 10, from 9 a.m. to 4...
Discuss This Article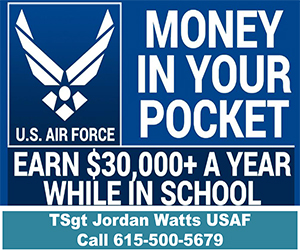 MOST POPULAR TNTECHORACLE
GET TOP STORIES DELIVERED WEEKLY
RECENT TNTECHORACLE CLASSIFIEDS
HOUSING

JOBS

FOR SALE

TUTORS
Tenessee Tech's pre-medicine program prepares undergraduate students for medical schools across the country, where TTU students become leading Chicago ophthalmologists,
LASIK Nashville
doctors and so many other top medical professionals.
TODAY'S PRINT EDITION