Post Classifieds
Artist interview: Seven questions with artist Wax Fang
By Logan Nickleson
On March 22, 2012
Delta Squad, adding members Anya and Sam, returns for a final hurrah as humanity makes its last stand against the Locust and Lambent. Epic Games and Microsoft
Louisville's experimental-rock band Wax Fang is scheduled to perform March 29 at the Backdoor Playhouse. The event, organized by student group Underrepresented, New, Creative, Live Experiences, is free to all and will begin at 8 p.m. with a performance by local band The Soviet Space Program.
Wax Fang's bassist, Jake Heustis, agreed to answer a few questions on the telephone in order to provide readers with a personal introduction to the band.
Q. How long has Wax Fang been together?
A. Around six years.
Q. Who are the band's key musical influences?
A. I think that there's definitely a background in classic rock-'60s and '70s. And we're products of the '90s. So you can't help bands like Nirvana and Sonic Youth sliding in there. I would say there are some experimental composers like John Cage. And then I think Brian Eno is also very inspirational as well. We can throw in there musicals like "Annie."
Q. The last official Wax Fang release was in 2010. What has the band been doing for two years?
A. We were writing and demoing a lot. We did go over to England and do a three-week tour there. We've gone down to a river house that's about an hour or so out of town and cut a few series of demos there just to get away and concentrate a little bit. I'd say that's where the EP that's getting ready to come out was birthed, to a degree.
Q. How do you feel about the current state of the music industry and the shift to digital media?
A. It's interesting. It's definitely made it more difficult, I think, for bands. Ten or 15 years ago, labels were much more willing to put out a little bit of money and support bands that didn't necessarily have any sort of guarantee and just seemed interesting. It's a shame to a degree. But I think, at the same time, it's been going on for long enough now that people are adjusting. The industry's adjusting, trying to figure out what battles to pick.
I've seen and felt for a while that vinyl was going to make a nice comeback. That's really great because if you are someone who does [care] about having the actual physical copy of the record, buying vinyl's great. They still give you the MP3 download and then you can have it on your mobile device. So you have the better of all formats, I would say. I feel like that's definitely not going to go anywhere.
Q. What's your stance on the issue of pirated music?
A. I think it's a losing battle at this point. I think you just have to accept it. Ultimately, it's always been the goal and the most satisfying aspect of [making music] to have people hear the music. That's what you want ultimately, because that's what it's about. But, in order for bands to be able to do what they do and do it well, they've got to get the support financially, mainly so they'll have time.
It's just a losing battle. People are going to get it however they're going to get it. You just have to look for more creative ways to give people a reason to want to buy it and give them a reason to come out and see you live. Maybe, with all the excitement in the air, they'll buy an actual physical copy of the record or a t-shirt or something. At the same time, people can get exposed to music very easily and quickly. It's at that point where you just have to accept it.
Q. What are Wax Fang's plans for the future in terms of releases and tours?
A. We've got the EP coming out at the end of the summer. We're playing a few shows here at the end of March, and then we've got the Forecastle Festival here in Louisville that's definitely grown over the years. That's going to be a lot of fun. We'll definitely be playing some shows when this EP comes out. And there will be more to come after that.
Q. Is there anything you would like to say to your potential audience at next week's show?
A. I think we could all have a real good southern time together.
Get Top Stories Delivered Weekly
More tntechoracle News Articles
Recent tntechoracle News Articles
Discuss This Article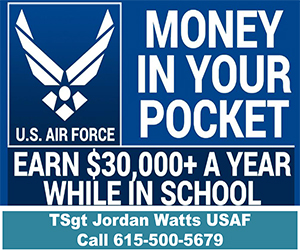 MOST POPULAR TNTECHORACLE
GET TOP STORIES DELIVERED WEEKLY
RECENT TNTECHORACLE CLASSIFIEDS
HOUSING

JOBS

FOR SALE

TUTORS
Tenessee Tech's pre-medicine program prepares undergraduate students for medical schools across the country, where TTU students become leading Chicago ophthalmologists,
LASIK Nashville
doctors and so many other top medical professionals.
TODAY'S PRINT EDITION