Post Classifieds
Recent Tech speaker reconsiders GOP run
By Jacob Walker
On December 1, 2011
Cain
Much has changed for Republican candidate Herman Cain since his recent visit to Tech's campus on Oct. 15, where he spoke from the steps of Derryberry Hall.
"Most everyone in the crowd definitely liked how down to earth he was," Clay Stubblefield, president of the College Republicans, said. "He was a really good speaker and all of his ideas are at least in the right area, whether or not they're the sharpest and to the point, they're still going in the right direction."
Soon after his appearance at Tech, allegations of past sexual harassment toward three women began to surface. The alleged incidents took place while Cain was serving as the head of the National Restaurant Association in the 1990s. Two of the incidents were reportedly settled of court with five-figure payouts and none of the women chose to be identified.
"He's been running for the presidency about just as long as everyone else and it's only just now when he's at the top of the rungs, that this has surfaced," Stubblefield said. "People can say, 'Oh, well he's paid these women to be quiet,' but in the business world you don't want it to be on the record that you were tried for something, so it's almost worth paying to keep it out of the books."
Until Nov. 7, none of the women who accused the Republican candidate of sexual harassment had come forward publicly. All of that changed when a fourth woman, Sharon Bialek agreed to sit down on national television and discuss in graphic detail the events that occurred between her and Cain.
"Initially I thought, here it comes, here's a black candidate who has a darker skin complexion, who sounds like a black man and who is ironically conservative," Robert Owens, director of Minority Affairs, said. "So when I had first heard the allegations I thought, this is it, this is what they're going to try and get him with. There's no way that a black man is going to win the Republican nomination, it's just not going to happen."
Early in Cain's race for the presidency the Georgia native was receiving attention for his 9-9-9 plan which will place a lower tax on the poorest U.S. citizens, while still taxing corporations as well.
"It's really interesting because it's a complete and radical change from the current tax plan which I think that most people would agree isn't working that well, no matter what side you're on," Stubblefield said. "His 9-9-9 plan is really interesting because it's 9 percent income tax, 9 percent business tax and 9 percent sales tax. Although it's hard to say what the affects of it will be since it's just in the promoting stage, but I think it could work well."
The 9-9-9 Plan will expand Gross Domestic Product by $2 trillion, create 6 million new jobs, increase business investment by one-third, and increase wages by 10 percent, According to Former Reagan Treasury official Gary Robbins, of Fiscal Associates.
Recently another aspect to Cain's campaign has surfaced after an Atlanta woman, Ginger White, has come forward with accusations of having a 13-year affair with the Presidential hopeful.
While no changes to his candidacy have been confirmed, he reportedly told his staff that he is reassessing his bid for the presidency following this latest accusation.
Get Top Stories Delivered Weekly
More tntechoracle News Articles
Recent tntechoracle News Articles
Discuss This Article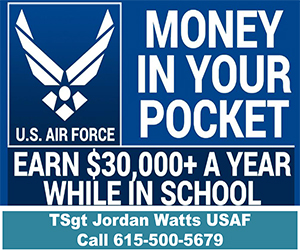 MOST POPULAR TNTECHORACLE
GET TOP STORIES DELIVERED WEEKLY
RECENT TNTECHORACLE CLASSIFIEDS
HOUSING

JOBS

FOR SALE

TUTORS
Tenessee Tech's pre-medicine program prepares undergraduate students for medical schools across the country, where TTU students become leading Chicago ophthalmologists,
LASIK Nashville
doctors and so many other top medical professionals.
TODAY'S PRINT EDITION